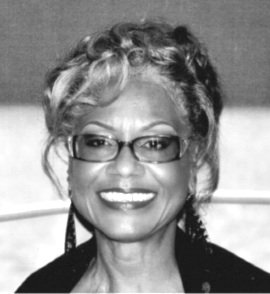 Valerie Louise Sands
unknown - unknown
Funeral Service for the Late Valerie Louise Sands, age 59 years of #12 Ferguson Way, Marathon Estates, will be held on Saturday May 31st, 2014, 11:00 a.m. at St. Agnes Anglican Church, Baillou Hill Road. The Venerable Archdeacon I. Ranfurly Brown assisted by Rev'd. Fr. Neil Nairn and Canon Warren Rolle will officiate. Interment will follow in St. Agnes Cemetery, Nassau Street.
Left to cherish her memory are: Daughter: Ashley N. Sands; Sons: Robert D.L. Sands II and Omar E.L. Sands; Daughter-in-law: Georgette Sands; Granddaughter: Gabriella Sands; Brothers: Henry Dean, Edward Dean and Amos Dean; Sisters: Gennie Dean, Willamae Dean, Pecola Dean, Gaynell Johnson and Tamiko Brown; Brothers-in-law: Dwaine Johnson and Tyrone Brown; Sisters-in-law: Gina Dean and Yvette Dean; Nieces: Duquesa Dean, Richenda Dean, Allison and Kristina Dean, Eddyka, Davinia and Danae Dean, Candace Johnson and Tynique Brown; Nephews: Bradford Colebrook, Donovan Dean, Dwaine & Caleb Johnson and Tyreek Brown; Grandnieces: Shanae Sweeting, Rihanna Bain and Danielle Colebrook; Grandnephews: Ian Johnson and Kailen Colebrook; Other siblings and their families: Mearl, Cecil and Theophilus Dean, Delores Delancy, Godfrey "Gully", Rudolph, Mavis, Lester, Clement, Hesketh, Bethsheba "Beverly", Holly, Rudy, Mavis, Sean, Vernlie, Shawn and Geraldine Dean, Constance Seymour, Sheila Culmer, Elaine Goodman, Audrey Russell, Esther Pratt, Valencia Harris and Marianna Brennen (deceased), Drexel Dean (deceased), Winston Dean (deceased) and Gerald Dean Jr. (deceased); Grand-Aunts: Francina Watson, Pecola Mackey, Vernita McKinney and Evelyn McKinney; Grand-Uncles: Elizah and Samuel Butler of Goulds, Florida, Alexander, William and Epheus Butler, Joe Mckinney of New York, Harry and Charles McKinney; Godchildren: David Johnson Jr., Matthew Gray of Los Angeles, California, Robert Albury, Chatum Ferguson, Leasha Fitzgerald and Sameya Munnings; Godmother: Pat Carey and family. Other family including: Robert D.L. Sands and family, the descendants of the late Gerald Dean, Peraline Hudson and family, Merline Woodside and family, Pearline, Sandra, Delores, Raquel and Ricardo McKinney, Ernestine Douglas, Eva Brown and family of Fort Lauderdale, Florida, James Butler, Katie Saunders and family, Sen. Allyson Gibson and the Maynard family, Shandalique Dean, John Brown, Melony Hanna, Delison Watkins and the Watkins family, Valderine Kemp, the McKinney, Laramore, Young, Hanna, Gibson, Delancy, Thompson, Moxey, Sweeting, Butler, Strachan, Davis, Bethel and Smith families ('South Eleuthera Clan'). Friends including: David & Sabrina Johnson and family, Linda Fitzgerald and family, Cheryl Gray and family, Millie Young, Wendall Jones, Barbara Sweeting, Philip Roker, Melony Leadon, Kim Cambridge, Marina McClain, Jerome Johnson, Kenneth Lockhart, Wendy Craigg and The Management & Staff of the Central Bank of The Bahamas (especially the Banking Department and the Foreign Investment Team), Diane Stewart, Dr. Duane Sands and family, Michael & Ruth Bowe-Darville and family, Rogina Munroe, Tony & Paulette Watkins, Brendalee Cunningham, Noel & Prisca Gibbs, Jerome Swann, Donalee Johnson and family, Donna Johnson, Trevor McKay, Priscilla Scavella, Vanrea Williams, Donnalee Symonette, Kim Deveaux, Prince & Roddie Albury, Betty Diggiss, Ann Cooke, Charmaine Ferguson, Julia Hepburn, Mr. & Mrs. Courtney Strachan, Elsie Strachan, Shelly Collymore, Brenda Archer, Andrew Smith and family, Paul Bethel & family, Basil & Roberta Sands and family, Maffie Johnson, Camille Johnson, Kyron Strachan, the staff of Pivot Point Salon, the staff of Shape Shifters Salon, the staff of Jones Communications, Archdeacon I. Ranfurly Brown, Rev'd Fr. Bernard Been, Rev'd Fr. Neil Nairn, Canon Warren Rolle, Archdeacon & Rev'd. Palacious, the members of St. Agnes Parish, Rev'd. Dr. Howard & Mrs. Mills and the Baptist Bible Church Family, Dr. Ronald Knowles, Dr. Ilsa Grant and the staff of Renal House, the Robinson family, the Francis family, Kareem Cox, Advado Scott, Marvin Pinder, Greg Saunders, Lorna Robinson, the entire Farrington Road community, and many more family and friends too numerous to mention.
Special thanks to Dr. Duane Sands, Dr. Paul Ramphal and her caregiver Pearline Pinnock.
Friends may pay their last respects at Bethel Brothers Morticians, #34 Nassau Street, on Friday from 10:00 a.m. to 6:00 p.m. and on Saturday at the church from 10:00 a.m. until service time.