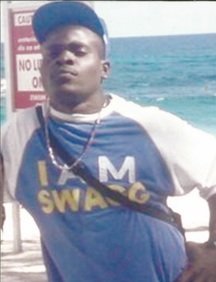 Valentino Rahming
unknown - unknown
Final Rites and Burial for the late Mr. Valentino Rahming Age 25yrs, a resident of Wilkinson Street will be held on Saturday May 31st 2014, 3.00 p.m. at St. John's Native Baptist Cathedral, Meeting Street. Officiating will be Reverend Doctor Hervis Bain Jr., assisted by Other Ministers of the Gospel and Interment will follow in the Western Cemetery, Nassau Street.
Left to cherish his precious memories are his Parents: Delerease Rahming, Maurice and Betsy Major, Grandmother: Eaithann Forbes Smith, Grandfathers: Vincent Major and Joseph Smith, Three Sisters: Randisha, Marissa and Garisha, Seven Brothers: Randy, Richard, Gario, Gainko, Chase, Justin and Taj, Niece: Dominic, Nine Aunts: Cheryl, Vernell, Annalisa, Nakisha, Tiabitha, Shaneil, Tredia, Kaysha and Pinky, Six Uncles: Vincent, Mark, Daleno, Bernard, Mario and Eddie, Nine Grandaunts: Maria, Brendina, Patricia, Louellen, Barbara, McDonna, Rhoda, Judith and Patricia, Three Great Grandaunts: Shirley, Omie and Deborah, Four Granduncles: Christopher, Joseph, Andrew and Stafford Cousins: Ricardo, Alexis, Makia, Malesha, Maranique, Thromanique, Ericka, Vandessa, Erqy, Vinderia, Earinique, Destiny, Taniah, Tamal, Bruniesha, Louella, Loretta, Princes, Levi, Faithress, Brittney, Marcellyn, Melvin, Deantae, Shawn, Lashawn, Steven, Caesar, Teraley, Akeem, Timoy, Maralyn, Karen, Pamela, Bernadette, Otiva, Catherine, Archillus, Harvey, Arnadette, Otiva, Catherine, Archillus, Harvey, Anthony, Kendra, Kiesha, Kevin, Boi, Opie, Barbie, Clint, Tyrone, Nevaeh, Rayniesha, Marco, Corey, Jr, Lynderia, Chet, Thaya, D'adora, Thaya, Qt, Thaya, D'adora, Thaya, Quincy, Muincy, Melony, Anita, Antonio, Tyreke, Thyland, Ejyp, Antonique, Antoniece, Naajaa, Carissa, Alexia, Alexandria, Trevor, Johnathon, Brenique, Joshua, Steven, Bernard, Anthony and Antwan and a host of Other relatives and friends including: Alexander, Don, Bain, Monique, Terah, Tanya, Allison, Ryan, Robert Bethel, Vanesha Thompson, George Seymour, Cheryl Elliott, Dr. Bernard Nottage, Rev. CB Moss, Bronson Sands, Marguerite Roberts, Franklin Wilson, Neil King, Treadwell Johnson, Henry, Tamika and Monrese Johnson, Cabbage Beach, Wet Money, the South, West, Augusta and Wilkinson Streets Community and Families

The body will repose at the Chapel of the Saints, Sweeting's Colonial Mortuary and Crematorium, #84 Blue Hill Rd. from 10.00 am on Friday until 6:00pm and on Saturday from 9:00 am until service at the Church.