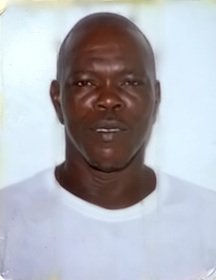 Prince "Papa P" Alfred Arnett
unknown - unknown
Ruby Funeral Service For Prince Alfred "Papa P" Arnett Age 48 years of #39 Ludlow Street West will be held on Saturday, May, 31, 2014 at 10am at Believers Bible Ministries, Carmichael Road. Rev. Lynden C. Young Sr. will officiate and burial will be in Old Trail Cemetery, Abundant Life Road.
The Radiance of this "Ruby of A Gem" will always glow in the hearts of his:
One Son: Mario Valentino Arnette;
One Grand Son: Jeremiah Valentino Prince Arnette;
Three Brothers: Philmore of North Lauderdale Florida, Samuel and Stephen Arnett;
Two Sisters: Susan and Garnell Arnett;
Five Nephews: Chavol Smith, Anfernee Ferguson, Dillon Bethel, Vincent and Lamont Arnett;
Fourteen Nieces: Alice, Pascal, Melinda, Tiffany, Bernice, Edell, Triann, Tiffany, Joette, Jantzen, Joel, Antoineque and Melinda Arnett, Shavonia Smith and Gianna Ferguson;
Three Uncles: Hubert and Michael Arnett and Samuel Williams;
Five Aunts: Olive Williams, Maud Johnson, Esther Smith, Beulah Arnett and Christine;
One Sister-in-law: Dornell Arnett of North Lauderdale, Florida;
Cousins: Anatol Major, Angela, Don, Diane, Janet, Herbert Jr., Terrance, Marina and Donahue Arnett, Pastor Valentino Shandel Campbell, Jermaine and Charmaine Clarke, Winnianne Seal, Mavis Brice, Vincent, Lynden, Angela, Craig, David, Donald, Eugene, Leah and Jermaine Johnson, Shanessa Cox, Prescola Thompson, Daphne, Shamond, Geno and Gary Smith, Ingrid Brown, Clinton and Patrice Williams of Florida, Melvin and Melody Newbold, Tamiko and Kimberley Collie;
Special Friends: Abigail Babb and Terrance Pedican;
Other Loving Family and Friends Including: Jason Wong, Estella Zonicle, Brian, Talks, Bryan, Timmy, Jolly, William, Lar, Moon, Manager, Kalar, Cat, TJ, China, Bebe, Pellie, John, Don, Gary and Edney.
Visitation will be in the "Emerald Suite" Emerald Ridge Mortuary & Monument Company Ltd. #20 Claridge Road, on Friday, May 30, 2014 from 1pm to 6pm and at Believers Bible Ministries, Carmichael Road on Saturday, May 31, 2014 from 9am.