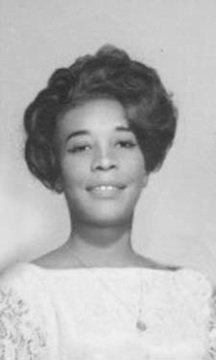 May Virginia Ferreira
unknown - unknown
Funeral Service for May Virginia Ferreira, age 83 years, of Oxford Road, Nassau East South, formerly of Arthur's Town, Cat Island, will be held at St. Matthew's Anglican Church, Shirley and Church Streets; on Saturday May 31st, 2014 at 3:00 p.m. Officiating will Canon Crosley Walkine assisted by Rev. Fr. Lynden Douglas. Interment will follow in St. Matthew's Cemetery, Church Street.
Left to cherish her memories are her son: Romauld Sotario Emmanuel Antonio Ferreira; daughter-in-law: Erica Ferreira; son-in-law: Peter Pateman; grandchildren: Michael Peter Pateman, Diana Jean, Tamia Renee, Sotario Emmanuel Antonio and Danielle Margaret Ferreira; great-grandchildren: Eli Frederick, Jean Rose and Adam Michael Pateman; siblings and their spouses: Howard Joseph Kemp (Sylvia), Mavis Laurena Young, (Frank Barrow) and Iris Edith Finlayson (Roosevelt); nephews: David Eugene "Davie" Young, Jr., Arnold Joseph Kemp and Kwame Roosevelt Finlayson; nieces: Rachel Virginia Kemp, Margaret Laurena Kemp and Laurena Sharon Finlayson; godchild: Diana Wallace; family and friends: Ida Reilly and Family; Stanley Campbell and family; Louise Gibson, Gail Carey, Gina Rolle and Gill Gibson-March and their families; Richard (Barbara), Winston, Lincoln (Meagan) and Dennis (Wilma) Marshall and their families; Michael and Joyce Pateman and Family; Andrea Sturrup and Family; Jillian Ferreira and Family; Jackie Taylor; Angela "Angie" Cartwright and Family; Val Hanna-Wells; Sheila Louise Pessoa; Naomi Symonette; Diana Mullings; Marica Hamilton; Angela Cartwright and family; Doreen Campbell and the children of James "Bulla" Campbell, and their families; Rev. Carl Campbell, his siblings and their families; the children of Winnis Bethel and their families; the children of the late Sebastian Campbell Sr. and their families; Phyllis Johnson and family; Cheryl Seymour, her siblings and their families; the Lightbourne family; Leonard Adderley, Ronald Campbell and family; the Larrimore family; Troy Cargill Jr. and family; Andrew Culmer Jr. and family; Vincent Peet and numerous others;
A special thank you to: Andrea Sturrup for her attention to May over the years; the nurses and doctors at the Elizabeth Estates Clinic; Warren Rolle; Canon Crosley Walkine; Rev. Fr. Lynden Douglas; Canon Delano Archer; Fr. Atma Badu; St. Matthew's Social Services; Mrs. Angela Archer (St. Matthew's) and to her friends who continued to call and visit up until the time of her death.
Friends may pay their last respects at Butlers' Funeral Homes and Crematorium, Ernest and York Streets on Friday May 30th, 2014 from 10:30 a.m. to 4:30 p.m. and at the church on Saturday May 31st, 2014 from 2:00 p.m. until service time.