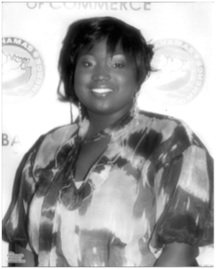 Chitra Millicent Pennerman
unknown - unknown
Funeral Service for the Late Chitra Millicent Pennerman, age 29 years of #28 Mullings Street, will be held on Thursday June 5th, 2014, 2:00 p.m. at St. Francis Xavier Cathedral, West Hill Street. Fr. Glen C. Nixon will officiate. Interment will follow in the Western Cemetery, Nassau Street.
Left to cherish her memories are: Mother: Dorothy Johnson; Father: Emmanuel Pennerman; Step-Fathers: Byron Clarke & Samuel Heastie; Step-Mothers: Marjorie Pennerman & Nicola Heastie; Sisters: Nicoya Kemp, Tennile Clare, Zoey Gibson, Ava Smith, Cornelia Taylor & Megan Bowe; Brothers: Anwar Johnson, Matthew & Michael Pennerman; Brother-In-Law: Richard Darville; Grandmothers: Ruth Minus-Darbouze & Eloise Johnson; Grandfathers: Cyril Johnson & Eugene Darbouze; Aunts: Patrice Jones of Kansas City Missouri, Donna Fisher, Bridgette Outten, Minister Marlene Minus, Sgt.2347 Freya Emmanuel, Denise Louis, Latravia Turtle, Senator The Honorable Allison Maynard-Gibson, Kelsey Johnson, Lorraine Duvalier, Keva McIntosh, Renita Murphy, Almetha Brooks, Carolyn Williams, Pearlie Francis, Marguerite, Pauline, Althea, Susan, Margo and Latanya Pennerman, Hope Shellyann, ASP Maxine Rolle. Janet, Pamela & Dale Sawyer; Uncles: Bradbury of Louisville Kentucky and CPL.1811Stephen Johnson, Darcy Louis, Alex and Alexis Darbouze, Bradley Jones of Kansas City Missouri, Carl Fisher, Mario Outten, Mark Emmanuel, Steven, Ricardo and Kyle Johnson, Maxwell Gibson, Cedric, Harry, Errol, William, Archie, and Samuel Pennerman, Hillit Williams, Jeffrey Francis, Jerome Sawyer, Ricardo Rolle, Eunice Albury & Ena Pinder; Grand Aunts: Lena Williams, Jackie Minus of St. Paul Minnesota, Elaine Benner-Minus of St. Paul Minnesota , Helen Johnson, Edna Sands, Laura Taylor, Gwendolyn Hammerton & Adeltis Sweeting; Grand Uncles: Arthur Minus of St, Paul Minnesota, Audley Minus & Cedric Minus; Nieces: Brittany Minnis, Whitney & Wynter Isaacs and Destiney Basden; Nephews: Winton Cooper & Chercorie Wells; Grand Niece: Jaelyn Clark; Cousins: Lervette & Andre, and Blair of Atlanta GA, Rasheed Davies, D'Haska Gilcud, Mardeskia , Carl Jr, Lorenzo, Carlisa and Carlita Fisher, Peter and Christopher Outten, Stephanie, Stephen Jr and Skylar Johnson, Andrew Hall, Mark Jr and Joshua Emmanuel, Nia-Mandi and Noah Louis, Monique Dauphin, Shavarous Woodside, John Jr. and Johnette Rolle, John, Lawrence, Keith, Scottie and ISP Christopher Minus, Bradtesha Pratt, Justan Sands, Erica, Tanya, Tara, Chloe, Anthony & Arthur Minus Jr., Loretta Brooks, Amanda Borden, Evan, Anna, Evanna, Anissa, Devanney & Erin Dean, Yvonne, Dennis & Denise Dean, Barbara Dean-Saunders, Keiysha Wilson, Khrishna Brown, T'noya & Phillipa Bethell, Keshaunda & Khristen McKenzie, Marshanell Farrington, Laurie Major, Michelle Major, Teneil Bodie, Raynard & Michael McDonald, Cicily Stubbs, Tre Bastian, Phillip and Daphne Brennen & family, Yvonne Armbrister & family, Clarise Moss & family, Alton, Gary, and Michael Brennen & family, Dale Brennen, Handle (Reality) Sands, Marilyn Minus & family, Delarise, Audley, Audrey & Audie Minus; Godparents: Catra Armstrong, Karen Lightbourne, Anastasia Maura, Kirk Collie & Joy Nichols; God-sister: Thaj- Lien Armstrong; Godchildren: Kennedy Kemp & Blair-Riley Pierre; Special Friends: Minister Daniel Johnson, Minister Khaalis Rolle, Dancyn Tynes, Javier Bowe, Tikeisha Saunders, Brian Rolle, Merv Johnson, Yohancy Kemp, Christopher Knowles, Norelle Coakley, Cisco Decosta, Minister Ryan Pinder, Jeanette George, Janet Simmons, Rico Russell, Anishka Clarke, Kira Horton. Jereth Albury, Antoine Wolfe, Mason Robinson, Deitrich Williams, Tino Farrington, Randal Robinson, Jason Rutherford, Meko Stuart, Alisha and Tino Wolfe, Dorrington Poitier, Jamaine Dorsette, Damaal Dorsette, Jason Curry, the Honorable Randy Rolle, Consular General of the Bahamas to Atlanta; A hosts of other relatives and friends including: Andre Davis & family, Louise Adderley & family and the Cooper family, Staff of Bahamas Telecommunications Company Ltd., Burns House Ltd., Bahamas Business Solutions, former staff of Pepsi Bahamas, Staff of Fashion Hall, Velvet Hanger & the National Insurance Board; Father Glen Nixon of St. Francis Xavier Cathedral, Dr. Nigel Johnson, Dr. Clyde Munnings, Hon. Loretta Butler Turner& family, Deputy Prime Minister Phillip "Brave" Davis & family, Minister Jerome Fitzgerald, PS Nicole Campbell, Director Lionel Sands and the staff of Ministry of Education and Department of Education, PS Calvin Balfour and staff of Ministry of Youth, Sports & Culture, Staff of NAD, Anthony & Delores McPhee & family, Beecham Braynen, Elvardo Deleveaux, Michael Dames, the Late Agnes Albury & family, Bertram Knowles & family, Pastor Cleone & Cynara Munroe, Veronique Joseph, Trina Fernander, Duane & Shenell Ellis, Ingrid Russell, Geraldine Stevens, Sharon Forbes, Terrico Bain, Hopal Fox, Marie Darling, Sharon Adderley, Dexter Hepburn, Hon. Vergenius Alfred Gray, Audley & Garnell Kemp, Pastor Hueter and Prescola Rolle & Family, the Eleuthera family, "Fort Hill Corner Boys", "Friday night dock crew", the Albury family, Lauvanie Richard & Family, Bernard Evans,President of B.C.P.O.U Union, various Government Ministries & Departments; Staff of Atlantis Royal Towers Public Areas, Staff of P.M.H. and Doctor's Hospital, the Shell Saxons Superstars and the Fort Fincastle community.
Friends may pay their last respects at Bethel Brothers Morticians, #34 Nassau Street, on Wednesday from 10:00 a.m. to 6:00 p.m. and on Thursday from 10:00 a.m. to 12:00 noon and at the Cathedral from 1:00 p.m. until service time.