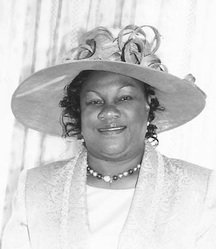 Agnes Maria Cash
unknown - unknown
Home Going Celebration
For the late
Agnes Maria Cash
Sunrise: March 11th, 1952
Sunset: May 11th, 2014
Age: 62
Service held at
Charles Wesley Methodist Church
Lower Bogue
Eleuthera, Bahamas
Saturday May 31st, 2014
At: 11:00 A.M
Officiating
Rev. Christopher Neilly
President of the Methodist Church Conference
Assisted by
Pastor Ednol Cash
And
Deacon/Pastor Wade Higgs
Organist
Mr. Sidney Brown
Interment
The Public Cemetery
Lower Bogue,
North Eleuthera, Bahamas
OBITUARY
Life hits us with surprises
That we do not understand
Our loved ones can leave us,
Before we can get the chance
A TIME TO BE BORN
On March 11th, 1952 a beautiful bouncing baby girl was born to the proud parents of the late Willard and Miriam Albury. They cherished this bundle of joy and named her Agnes Maria Albury.
A TIME TO LEARN
She obtained her early education at the Lower Bogue All Age School, and upon the completion of her studies, she sought gainful employment.
AN INDUSTRIOUS EMPLOYEE
Agnes was employed at the Current Club Resort, Club Med Resort where she diligently and faithfully toiled for twenty-one years. Due to the closure of both resorts, she then sought employment as a House Keeper in Harbour Island at a private residence owned by Rainey and Melissa Sellars where she worked for fifteen years until her passing.
A TIME TO CARE
Agnes met a young, handsome gentleman by the name of Godfrey Cash. It was love at first sight. They both fell in-love and was join together in Holy Matrimony on September 1st, 1975. God had blessed them with thirty-nine years of commitment and dedication.
A TIME TO SHARE
"Aggie" as she was affectionately called by many of her friends and siblings was a kind hearted person. She was well loved among her family and everyone who came in contact with her. She was a devoted wife, mother and grandmother. Aggie didn't have any children, but she adopted a lot of her sibling's children and took them as her own. Agnes had a special love for all of her nieces and nephews. She would often say "yall is all I got". She loved her God and the Church. She didn't have much to say but she praised God in her own special way. She was a member of the Regional Choir, Charles Wesley Church Choir and she also served on the Usher Board. Agnes was known for baking scrumptious pastries such as coconut tarts, pineapple tarts, pumpkin pie, bread pudding and potatoe bread. She was known in Harbour Island as the "cake lady". Whenever you came around her, she would not let you leave without giving you something, if she didn't have anything she would often say "gal I ain't get
Tribune Esther Barry
Funeral Service for Agnes Maria Cash age 62 affectionately called "Aggie" of Lower Bogue Eleuthera, who died at her residence May 11th, will be held on Saturday 11:00 a.m. at Charles Wesley Methodist Church Lowe Bogue Eleuthera. Rev. Christopher Neilly assisted by Pastor Ednol Cash and Deacon Wade Higgs will officiate and interment will follow in the Public Cemetery Lower Bogue Eleuthera.
Left to mourn her passing with cherished memories are:
Her husband: Godfrey Cash,
Mother and Father-in-law: Harry and Velma Cash.
ADOPTED CHILDREN
Tamara Johnson, Yvette, Jordan, Scottland, Alicia Albury and Sophia and Marissa Cash.
ADOPTED SON-IN-LAW
Dominic Johnson
SISTERS
Ismae Johnson, Melvine Cash, Olive and Ona Albury
BROTHERS
Whitfield, Kermit, Truman and Caleb Albury
ADOPTED SISTERS AND BROTHERS
Margurie Albury, Olga Frazier and Solomie Munroe, Pat Reckley and George Barry.
ADOPTED GRANDCHILD
Tiara Johnson
SISTERS AND BROTHERS IN LAW
Eloise Gibson, Shamene Johnson, Valeria, Margaret , Stacy, Vernessa, Madlene and Christine Cash, Tealeah Rolle, Jenorosa Albury, Daphne McIntosh, Donna Heastie, Hank Gibson, Richard and Franklyn Johnson, Ferman, Gladstone, Assistant Superintendent Of Police, Solomon Harris, Assistant Superintendent Of Police Hilton Harris and Sergeant Harris of the Royal Bahamas Police Force and Elsworth Cash, Kirk Rolle.
AUNTS AND UNCLES
Rosemary Johnson, Rosalie and Vernita Albury, Joyce & Cassie Neilly and Sybil and Mercia Cash, Joseph and Fred Bain, Harcourt Johnson, Bishop Ivan, Delbert and Reginald Neilly, Crestwell, Joseph and Carlton Cash.
NEICES AND NEPHEWS
Leander and Brenda Johnson, Anthony and Melonie Kemp, Livingston and Ninja Albury, Patrick and Vanessa Albury, Rodger and Kimberly Albury, Casey Johnson, David, Elton, Spence, Timothy, Sharlon, Zebeith Johnson, Kimeo, Wildear, Steve, Rosene and Whitney Albury, Delroy Higgs, Roscoe Cash, Laura Johnson, Diane Johnson, Patrice Albury, Lateisha McIntosh, Deandra & Hank Gibson Jr., Hilvana, Hilvonia and Hilvin Cash, Gabriel and Kyle Cash, Quinton and Franosha Johnson, Crystal, Akira, Sullivan, Shamar, Solomon Cash Jr., Harris Cash Jr., Denique and Donnalissa Heastie, Lavonia Cooper, Tameka Johnson, Antone and Dedrie Barry, Okell and Nikeya Cash, Maurice Turnquest, Wesley Johnson Jr., Renaldo and Deandra Wilkerson, Delano Rolle and Karisma Rolle.
ADOPTED NEICES & NEPHEWS
Kavanya, Kieanna, Kevin Jr. Albury, David, Charlton, Calvin Frazier, Wilton, Philip, Chris Munroe, Kendal & Maxwell Albury, Corrine Johnson, Issie Frazier and Florie Ferguson.
GRAND NEICES AND NEPHEWS
Jamal, Lorenzo, Tiawana, Zion, Sanchez, Kazi, Ellanae, Leanna, Leandre, Gage, Addison, Patrick, Shandrea, Whitney, Sameka, Rodgeno, Kimetra, Samuel, Luciano, Jameko, Lashae, Maurishia, Alicia, Tia, Gerrica, Trinique, Arianna, Nikell, Tyrek, Maurice Jr., Marino, Don Johnson Jr., Nelson, Antonio, Lavardo and Mercy, Rihanna and Rico.
GOD CHILDREN
OTHER RELATIVES AND FRIENDS
Jackie Kelly, Judy Wallace, Vernell Cash, Olga & Dolce Emann, Mekal McDonald, Velma Bullard, Ena Pinder, Larry & Marissa Winder, Darold Johnson, Ceicly Albury, Alvette Bethel, Clayton Kelly, Paula Albury &Family, Lillian Hudson, Jennifer Rolle & family, Rowena Johnson & family, Rudy Albury & family, Amos Johnson & family, Bishop Dudley Kelly & family, Sherelle Bain, Orene Frazier, Helena Bethel & family, Paulette Cash & family, Glenroy Albury & family, Rainey Sellars & family, Donald cash & family, Arlington Cash & family, Leole Mackey & family, Orean Cash & family, Tredville Kelly & family, Fred Neilly, Willamae Albury & family, Charles Wesley Methodist Church and the entire community of Lower Bogue.
Relatives and friends may pay their last respects at Newbold Brothers Funeral Home Palmetto Avenue and Acklins Street on Thursday from 3:00-7:30 p.m. on Friday from 10:00 a.m.-11:30 a.m. and at the church in Lower Bogue on Friday from 7:00 p.m. to service time on Saturday.
Funeral arrangements are being handled by COMMONWEALTH FUNERAL HOME.