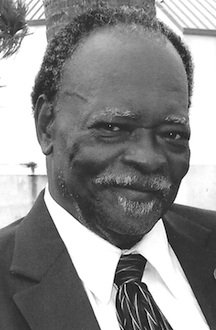 Wilfred Arnold Bain
unknown - unknown
Funeral Service for Wilfred Arnold Bain, age 79 of Stapledon Gardens and formerly of Mason's Bay, Acklins who died on May 15th 2014 will be held on Saturday at 11 a.m. at Mt. Horeb Baptist Church, Sandy Port. Officiating will be Rev. Dr. Lloyd C. Smith assisted by Other Ministers. Interment will follow in Lakeview Memorial Gardens, J. F. K. Drive.
He is survived by his Wife: Gwendolyn Bain; Children: Winton and Vivian Bain, Gerona Bernard, Cleaton, Edward and Clarence Bain; Adopted daughters: Cora Gibson, Sybil Allen, Lydia Thompson, Dannell Ferguson and Estalena Wallace; Grandchildren: Winton Jr., Dayyne and Priestlyy Bernard, Gardina Bain, Abigail, Cleaton Jr., Levi and Anthony Bain; Sister: Muriel Ferguson; Brother: Cleaton Bain of Freeport, G. B.; Sisters-in-Laws: Ivadell Bain, Juliamae Bain of Sarasota, Fla., and Rosemary Bain; Nieces and Nephews: Herbert, Stafford, George, Anthony, Theola, Delerese, Sonia, Charmaine, Euricemae, Dorene, Clarista, Rupert, Arnald, Kathleen, Katherine, Coretta, Nicarra, Johnique, Shaphell, Waheed, Bernard, Dorene, Rodney, Floralee, Althea, Angela, Juliamae, Talmadge, Ronald, Kirkland, Preston, Patrice, Neil, Mario, Brendon and Apostle Mitchell E. Jones; Other Relatives and Friends: The Hon. D. Shane Gibson and family, Eric Gibson Jr. and Family, Jonathan Ford, Allan Stubbs, Ruby Ann Darling, Leota Whylly, Berneva Gibson, Edna Ferguson, Delworth & Alborne Gibson and Reno Taylor, Caroline Walker and family, Inez Ferguson and family, Dorothy Williamson and family, C. J. Williams and family, Pastor Lloyd C. Smith and the Mount Horeb Baptist Cathedral family, the Annex Baptist Church and the Lively Stone Church.
Friends may pay their last respects at East Sunrise Mortuary, Rosetta Street, Palmdale from 10 a.m. to 6 p.m. on Friday and at the Church from 10 a.m. on Saturday until service time.