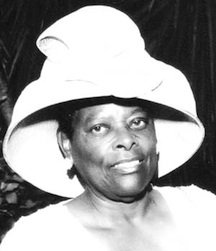 Thelma Betty Demeritte
unknown - unknown
Funeral service for
Thelma Betty Demeritte, 76
a resident of Ranfurly Drive, Coral Harbour and formerly of Snug Corner, Acklins, will be held at St. Barnabas Anglican Church, Baillou Hill & Wulff Roads, on Friday 23d May, 2014 at 10:00 a.m. Officiating will be Canon Basil Tynes, assisted by Bishop Gilbert thompson. Interment follows in Lakeview Memorial Gardens, JFK Drive.
She is survived by her Children: Donald (Susan) Demeritte; Denise (Martin) Couch of the Cayman Islands; Debbie (Conrad) Cross of Orlando, FL; Dr. Edwin Demeritte; Michelle Demeritte; and Stacia (Brent) Williamson; Brothers and Sisters: Edna (Guy) Perry of Miami, FL; Nellie Brennen; Audley Brennen; Beryl Williams; Carl (Michelle) Brennen; Rev. Michael (Barbara) Brennen of Delray Beach, FL; Hugh Brennen; Sharon (Claude) Haylock of New York, USA; and Sheryl (Arnold) Wood; Grandchildren: Dominic (Gianne) Demeritte of Atlanta, GA; Dawn Demeritte of Toronto, Canada; Toni Cross of Orlando, FL; Courtney Couch of the Cayman Islands; and Alexis Williamson; Great-Grandchildren: Sanae, Saige and Grayson Demeritte of Atlanta, GA; Nieces and Nephews: Dr. Gail (Rory) Rahming of Miami, FL; Dr. Dawn (the Rt. Hon. Dr. Rufus) Ewing of Turks & Caicos; Gary (Carol) Perry of Miami, FL; Dionne Williams; Greg (Tamiko) Perry of Miami, FL; US Army Sgt. Mark (Jennifer) Williams of Ft. Leonard, MO; Andrea Hackney of Atlanta, GA; Cara Bethel; Ekundayo Brennen of West Palm Beach, FL; Chike Brennen of Atlanta, GA; Ryan Wood; Kamilah Brennen of Delray Beach, FL; Anthony Brennen; Jason Wood; Abbie Brennen; Anthony (Keisha), Stephen (Odunna), Roderick (Janet) and Preston (Montgano) Hepburn; Jean Hepburn-Rolle; Katherine Demeritte; Sharon (Emery) Symontte; Kevin (Tanya) and Dion (Caroline) Demeritte; Aunts: Zerline Ferguson of Miami, FL; Eliza Ferguson; Brother and Sisters-in-law: Alfred (Erma) Demeritte and family; Naomi Dugger & Family; Shirley (Errol) Hepburn & Family; and Cora (Ernest) Armbrister; Adopted Brothers and Sisters: Neville (Francina) Brennen; Emerson (Ella) Brennen; and Alvine (James) Gay.
A Host of other relatives & friends.
Friends may pay their last respects at Demeritte's Funeral Home, Market Street, from 12-6:00 p.m. on Thursday & on Friday at the church from 9:00 a.m. until service time.