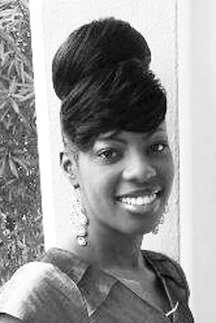 Sharnika Barnette Fritz–Gray
unknown - unknown
Funeral Service For The Late
Sharnika Barnette Fritz – Gray, 25

Of #28 Sister Maria Rahming Drive,
Millennium Gardens, will be held on
Saturday, May 24, 2014 at 10:00am
at United Faith Ministries International.
Fire Trail Road – East, Nassau Bahamas.
Officiating will be Apostle Phalmon Ferguson
Assisted by Bishop Buford Curtis &Pastor William
Evans. Interment will in the Lakeview Memorial
Gardens and Mausoleum, John F. Kennedy Dr.
She is survived by her Daughter: Tekia Morley, Mother: Clarrissa Fritz-Brice, Father: Baron Gray, Step Father: Anthony Brice Fiancé: Patrick Newman Jr., Brothers: Leonardo Wright and Baron Hill-Gray, Sisters: Latesha Thurston, Melissa Mckinney, Barnell Gray, Hillary McHardy, Syntyche Fritz, Baronique and Baronette Gray., Adopted Sisters: Scherles Mckenzie and Lanique Rahming, Grand Mothers: Celetha Dean and Mila Gray, Step-Grand Parents: Lawrence and Hannah Brice, Uncles: James Dean, Alphonso Munroe, Clarence and Lawrence Fritz, Cyril Mackey Sr., CONTACT _Con-3F8D018F84 \c \s \l Godfrey Gardiner, Peter Alexander of Hollywood, Florida Theopholus Fritz of the Turks and Cacaos Island, Police Constable 228, Tyrone Gray, Michael Gray, Benney Ewing, Charles, Randy, Franklin, Kendal Brice, and George Harris. Aunts: Karen Higgs of Hollywood, Florida, Miriam Mackey, Ruth Munroe, Sandra Gardiner, Estell Swain, Miriam Merritte and Emerald Roberts of Hollywood Florida, Myrtle Deleveaux , Agnes Deleveaux., and llithlee Brown, Sarah Rolle, Christine Flowers, Valerie Brown , Leona Smith, Janice Harris, Kelly & Sonia Brice, Mildred Gray, Beatrice Harvey, Brendalee Rigby, Alma Roberts. Nephews: Aaron Green Jr., and Jeffery Duncombe , Nieces: Anthonique Clarke, Robyn Harris, and Shandia Wright., In Laws: Patrick Newman Sr., Yvonne Seymour, Kerry, Alexio, Leonardo, and Julia Newman, Antonio Butler, Audrina Butler, Bertram, Valderine, and Natasha Johnson, and Shantel McDonald. God Children: Shamar Brown, Tatyanna Mckenzie, Maya Edwards and Anthonera Mckenzie, Cousins: Tevin Fritz, Nicholas Fritz, Faye Fritz, Khole Fritz, Khail Grant, Terran and Cyril Mackey Jr., Cheryl and Jaylisa Dean, Kertorra & Leander Davis, Sergeant 1st Class Shernell Higgs- US Army Frankfort, Germany, Tanieka, Tanisha, Alisha and Anastica Mackey, Symphony and Braxton Gardiner, Jonathan & Millie Richardson and Family, Mr. and Mrs. Lionel Richardson & Family, Oswald & Shirley Nixon and Family of Abaco, The Family of the late Margaret Richardson, The Family of the late Alberta Collie, The Family of the late Hosae Deleveaux of Hollywood-Florida, The Family of the Late Francita Deleveaux, Franklyn Deleveaux , Shelma Winters, Ena White-Charlton & family of Betsy Bay-Mayaguana. Emerald Roberts & family of Hollywood-Florida, The Family of the Late Wellington Hamilton, Alicia Smith, Derrick Whyms., Denitra Archer, Claudia Grant, Tevin Minus and Jeffery Gray., Special Friends: Genile & Shyann Willaims, Shakara Colebrooke, Janae Hall, Ashley Taylor, Anthony & Thynera Mckenzie, Javon & Lashara Moss, Crystall Brown, Mrs. Sands, Mrs. Owen and Mrs. Novella. Janson Brown, Alexander Evans, Carson Munroe, Jeffrey Dumcombe, Rico Bullard, Lorman Johnson, Randolph Richardson, Elroy Brown and Jaronald Johnson., Host of Other Relatives and Friends: Theo Morley, Teko Morley, Luann Watkins, Kimberly Forbes & Family, Waylon McHardy Sr., Timothy Moore, The Management and Staff of Britannia Drugs and Holdings- All Sundry Stores, The Management and Staff of The Atlantis Paradise Island Hotel and Casino-Banquet, Food and Beverage Department, Public Areas and Housekeeping, The Laundry and The Retail Distribution Centre- Retail Department, Rolex St. Fleur & Family, Dianne Ferguson & family, Pauline Ferguson & Family, Carolyn Cleare & Family, Dorothy Fox & Family, Sandra Rahming & Family, Andrew Gibson & Family, Janice Johnson & Family, Elva Thompson & Family, Susan Bar & Family, Sharon Davis & Family, Alison Coakley & Family, Oralee Beneby & Family, Shelia Rolle & Family, The Millennium Gardens Community, The Doctors and Nurses of the Female Medical 1 and The ICU Department of the Princess Margaret Hospital. Sharnika leaves behind a host of other relatives & friends too cherish her memories, which are too numerous to mention.