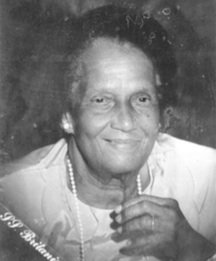 Ruby Louise Duvalier
unknown - unknown
Funeral Service for the Late Ruby Louise Duvalier, age 98 years of #6 Nassau East North and formerly of South Palmetto Point, will be held on Wednesday May 28th, 2014, 9:00 a.m. at St. Georges Anglican Church, Montrose Avenue. Archdeacon G. Kingsley Knowles assisted by Canon Norman Lightbourne, Rev'd. Fr. Oswald Pinder, Rev'd. Fr. Timothy Eldon and other members of the Clergy will officiate. Interment will follow in the Western Cemetery, Nassau Street.
She is survived by: One son: Leon Theodore Duvalier (Colamae); Two Daughters:  Brenda Duvalier and Daphne Clarke (Winston); Daughters-in-law:  Lorraine Duvalier (widow of Chauncey) and Jerrie Duvalier (widow of Philip); Grandchildren: John Duvalier, Victoria (Alex) Ferrier, Antja (David) Humes, Jevon Stuart (Bridgette), Billie Duvalier, Wayne Clarke, Daniel, Theo and Phil Duvalier, Tika, Christie and Ezrica Duvalier; Great-grandchildren:  Jevon Stuart II, Janae Stuart, Wayne Clarke II, Jeron and Jabron Stuart and Kenya Clarke; Adopted children: Mavis and Roscoe Davies and family, Doris Stockdale and Florence Johnson; Adopted grandchildren: Everette and Alma Sweeting and family, Larry and Marsha Saunders and family, Linda Lafleur (her special friend) and family, Cheryl Cash and family, Brenda Archer and family, The Clarke family, Canon Harry and Juliette Ward and Dolly Dorsett and family; Numerous nieces and nephews especially: Ettian Gilbert, Angie Culmer, Ruth Hutchinson, Merci Pedican, Vernie Thompson, Sydney Godet and family, Everette Olander, and the family of Beverly Olander. Other relatives and friends (not limited to but including): Colonna Wallace and family, the Valley families, the Christie, Carey, Frasers and Burrows families, Velma Bain and family; several Godchildren including: Grenda Colebrooke, Paula Hanna and Sandra Clarke; Archdeacon Kingsley Knowles and family, Fr. Timothy Eldon, Corese Culmer Eloise Cleare, Sylvia Cooper, Arabella Tynes, Alpheus Finlayson, St. George's Guild to Help the Sick and Needy, St. George's ACW, the St. George's Church Family, Antoinette Thompson, Marguerite Major, Eva Hilton and family, Rev'd. Fr. Oswald Pinder and the family of St. Margaret's Anglican Church, Canon Norman Lightbourne and the family of Holy Cross Anglican Church, Rev'd Fr. Mark Lindsay-Fox and the family of the Parish of the Most Holy Trinity, Rev'd. Fr. Joseph Mycklewhyte and family, Rev'd. Dr. Roland Hamilton (her physician) and Dr. Darren Donaldson.
Friends may pay their last respects at Bethel Brothers Morticians, # 34 Nassau Street, on Tuesday from 10:00 a.m. to 6:00 p.m. and on Wednesday at the church from 8:00 a.m. until service time.