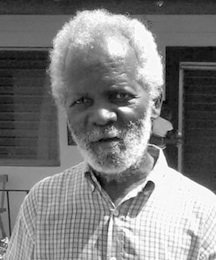 Peter Alexander Fraser
unknown - unknown
Funeral Service for Peter Alexander Fraser age 63 of Buttonwood St., Pinewood Gardens will be held on Saturday May 24, 2014 at 10:00 a.m. at Holy Family Catholic Church, Robinson and Claridge Roads. Officiating will be Fr. Thomas P. Brislin. Interment will follow in the Old Trail Cemetery, Abundant Life Road.
He will forever be greatly missed by his loved ones: Mother: Hazel Hamilton (nee Turnquest); Brothers: Desmond, Ernest, Garth, Warren, Linky, Audley and Valence Fraser, Sgt. 1121 Steven Hamilton; Sisters: Astrid Fraser, Paula-Mae Miller, Patsy Taylor, Veronica Pratt,Georgina McKenzie, Whitlean and Laurel Hamilton; Nieces: T'Shura Sinclair, Shantel Smith (Ronnie), Andrea Smith (Arlington), LaChez and Shanay Hamilton, Whitni Chandler, Tameka Hamilton, Lucretia Scavella, Toni Rolle; Nephews: Andrew Pratt, Sr., Jameil, Brittany, Theodore Reveen, Xavier and Xantae Hamilton, Aaron and Ashton Chandler, Ethan Scott, Darin Scavella; Grandnieces: Valencia, Danielle, Victoria, Ta'Vahjne, Tanay, Tavaria, Sierra and Caylee; Grandnephews: Shemarc Bastian, Ronnie, Roderick, Andrick, Andrew Jr., Adrian, Quron, DeShaun, Shannon, Darren, Anthony and Antonio; Aunts: Lillian Rahming (Noel), Deaconess Nathalie McPhee, Emmerita Cartwright, Olivia Turnquest; Uncle: ASP Wilfred Ferguson; Cousins: Eddie Forbes, Sgt. 2082 Julius Rahming, Karen Moxey, Janet Miller, Katrinka Neymour,  Christopher Morley, Patrice Lawrence, Verla Pratt, Effie Roach, Anthon Morley, Colin and Cheryl Turnquest, Jacqueline Knowles, Karenza Prude; Other Relatives and friends: Ronald Rolle, Natanya Francis, Allynthia Bethel, Kevanna and Kevin Roache, Patsy Humes and family, Newell Bastian and family, The Fraser family, The Turnquest  family, The Johnson family, Albertha Roberts and family, Bernice Kelly and family, Barbara Forbes and family, Aubrey Tucker and family, John Tucker and family, Veronica Hutchison and family, The Burrows family,  The Pople family, Deidre Woods and family, Deloramae Moncur and family, Vena McKenzie and family, The Seymour family, The Delva family, The Smith family, The Butterfield family, The Chandler family, Julia Thompson and family, Leroy Armbrister and family, The Daxon family, Winston Moss and family, Edna Levarity and family, Iris Bethel and family, The Francis family, Eugene Johnson and family, Olive Adderley, The Holy Family R. C. Church family, The City Market family, The Claridge Dale Gardens family, The Pinewood Gardens family and a host of other relatives and friends, too numerous to mention.
Viewing will be held in the Legacy Suite of Vaughn O. Jones Memorial Center, Mt. Royal Ave. and Talbot Street on Friday from 10:00 a.m. to 6:00 p.m. and on Saturday at the Church from 9:00 a.m. to service time.