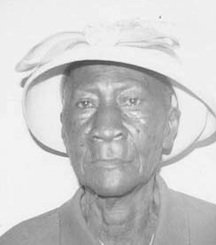 Loretta Nixon
unknown - unknown
Funeral service for
Loretta Nixon, 79
a resident of Green Castle, Eleuthera, will be held at Miracle Convention Cathedral, Green Castle, Eleuthera, on Saturday 24th May, 2014 at 11:00 a.m. Officiating will be Rev. J. J. Hepburn, assisted by other Ministers of the Gospel. Interment made in Green Castle Public Cemetery, Eleuthera.
She is survived by her husband: Heaman Nixon; 4 Children: Joseph, Eulene Nixon, Velene Mullings, Idamae Whylly and Jenniemae Richards; 2 Step Children: Arabella and Patrick Nixon; 2 Brothers: Alfred Mulling Sr. and Stafford Bethel; Sister-in-law: Lavanie Mary Mullings, Francia Butler-Watson, Pecola; 2 Brothers-in-law: William Butler Sr., and Alexander Sr. Grandchildren: Pedro (Bubbles) Richards, Joeniquer, Joenique, Shekeria Coredscia, Willicica, Joseph Jr. and Charles Mullings, Elvin (Candy) Richards, Sonja, Sammy and Sunny Brown, Alex, Terrance, Fabian Jr. and Javanray Whylly, Britney and Michael, Geffara and Jessica Noel; 11 Great Grandchildren: Edranique, Alexia, Patrel, Jermaine, Jamya, Jaden, David Jr., Pedronique, Samario, Grace and Ciara; 1 Daughter-in-law: Sheniquer Mullings; 1 Son-in-law: Fabian Whylly Sr.; 2 Granddaughters-in-law: Lisa Brown and Vandera Richards; 1 Grandson-in-law: David Noel Sr.; 3 Nieces: Theresa Mullings, Angela Collins and Rosemary Sauer; 4 Nephews: Freddy, Kenneth, Vinky and Alfred Mullings; Numerous Grandnieces and nephews including: Tean, Tatiana, Lavanda, Maryann, Buanna, Tumisha, Zalzoe, Gabriella, Rema, Ha'leel, Tanasha, Tash, Tarien, T'deano, Livingston, Calabe and Kenneth Jr., Davard, Steven, Mark, Javano, Torae, Nathan and Lavanya; Host of other relatives and friends including: Mr. Levi Brown and family, Bethram Rolle and family, Hilbert Richard and family, Bernal Richards and family, Leona Whylly and family, Carnetta Lee and family, Millie Sweeting and family, Esthermae Butler and family, Andrew Sands and family, Evelyn Whylly and family, Kenneth Forbes and family, James Idall and family, Olga Thompson and family, Walter Miller and family, Kavon Walace and family, Donald Wright and family, Rudy Nixon and family, Bishop Daniel Nixon and family, Tracy Morley and family, Terry Lightbourne and family, The Hon. J. Oswald Ingraham, Pastor Deon and Patrice Smith, Pastor Patsy Morley and family, Irish Rolle and family, Vera Davis and family, Maud McKinney and family, Hazel Sands and family, Garth Farrington, Marco Watson, Wendell Nesbitt, Pastors, Officers and members of Miracle Convention Cathedral and Deliverance Revival Center, Dr. Sidney Smith and the entire nursing staff of South Eleuthera, Nurse Angela Thompson and family, Staff and Students of Green Castle Primary School, Staff and Students of P.H. Albury High School, the entire Mackey family of Waterford, Eleuthera, the community of Green Castle, Eleuthera, Al Delancy and the Staff of Alantis Laundry.
Friends may pay their last respects at the church in Green Castle, Eleuthera, from 6:00 p.m.on Friday until service time on Saturday.