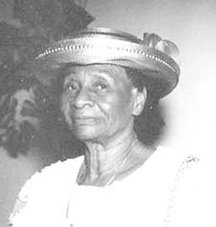 Icilda Wright
unknown - unknown
Funeral service for
Mother Icilda Wright, 92
a resident of Unison Road off Carmichael Road & formerly of St. Catherine's, Jamaica, will be held at Pentecostal Church of Faith in God, Montell Heights, on Sunday 25th May, 2014 at 2:00 p.m. Officiating will be Pastor Dean Wells Jr. Interment follows in Lakeview Memorial Gardens, JFK Drive.
Left to cherish her precious memories are: one daughter: Joy Henry; one son: Rupert Henry of Bellingham, Washington; two granddaughters: Simone Adderley (also adopted daughter) and Jessica Munroe; two grandsons: Bradwell Rose and Rashee Rose; one granddaughter-in-law: Shakeira Rose; two grandson-in-laws: Michael Adderley and Tim Munroe. Four great granddaughters: Khaylah Rose, Alanah Rose, Sheliah Rose, Tierra Rose; three great grandsons: Dashaun Rose, Tihjay Munroe and Aaron Rose. One sister, Lovey Scott of Kingston, Jamaica. Nieces, Nephews, cousins and a host of other relatives and close friends which includes: Judy Newchurch, Jerome Gilbert, Bernard Carter, Tanessa Lane, Pastor Ivan Missick, Pastor Horace Sterling , Anita Williams and family, Randolph Swaby and family, Gregory Knowles and family, Agatha and Akobe Cumberbatch, The Johnson Family, The Miller Family and The Wells Family.
Friends may pay their last respects at Demeritte's Funeral Home, Market Street, from 9-5:00 p.m. on Saturday & on Sunday from 10-12:00 noon & at the church from 1:00 p.m. until service time.