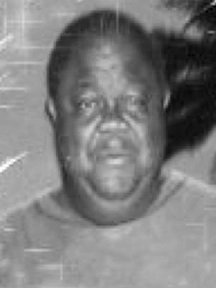 George Lawrence Roker
unknown - unknown
Funeral Service for the Late George Lawrence Roker; age 44 yrs.
Of Sandy Point, Abaco Bahamas.
Service will be held on Saturday, 24th May 2014, 2:00 p.m. at St. Martin's Anglican Church, Sandy Point, Abaco Bahamas.
Officiating: The Rev. Angela Palacious
Interment: The Sandy Point Public Cemetery, Sandy Point, Abaco Bahamas.
Left to cherish his memories are: his loving mother Janet Roker, (2) sisters: Judy Roker and Jill Pubien, (3) brothers: Rovel, Terell and Vandyke Roker, (3) sisters-in-law: Florence, Darlene and Sherece Roker, (1) Paul Pubien, (3) Aunts, Sheba Armbrister, Rose Thompson of Atlanta Georgia, Vernette Austine of U.S.A., & Nicky Knowles (1) uncle William Knowles, (13) nieces: Melinda, Cassie, Bionca, Tonkia, Tylin, Rodenia, Miracle, Sherell, Ramiyah, Gianna, Lesley, Yontala and Jeranita (6) nephew: Joinal, Elsworth Jr., Kalin, Denrodo, Tyrese, D'vantae and Shawn (8) grandnieces: Myah, Paris, Rayanne Carliyah,Kianna, Rodejah and Nia (9) grand nephews: Tahj, Makello, Roman, Rodelle, Mekhi, Denrodo Jr., Nijah, Zia. (2) Godchildren: Julian Thurston & Simone Bain.
Other relatives and friends including: Christine, Sandra, Raymond, Jason, Jewel, Jalinko, Zebulin, Florabell, Susan, Marcus, Benny, Andrew, Darlene, Annie, Barbara, Sandra, Leona, Leonard, Patrica, Andrew, Faith, Alexander, Alvin, Sintenie, Danero, Davantee, Cotrina, Ceila, Ramona, Jameson, Ian, Donovan, Cecily, Jeramine, Jerniskha, Jasmin, Chelsee, Elian, Jimmy, David, Alfred, Cecil, Ruth, Frances, Patrica, Reginald, Margaret, Eugene, Kendal, Jacqulyn, Ellen, Joanna, Debbie, Cotrina, Sylvia, Lee Jr., Carolyn, Douglas, Hon. Edison Key & Mrs. Key, Silbert Fox & family, Pastor Erskine Wells & family, Rev. Napoleon Roberts & family, Rev. Jason Roberts & family, Donald & Estelle Pinder, Emil & Shirley Saunders, Catechist Benjamin Pinder & family, Mrs. Brenell Higgs, Perry Adderley, Samuel Bain & Family, Robert McKinney, Solomon Russell, Patrick Roberts & family, George Burrows & family, Gregory Bain & family, Jay Dean & family,Valeria Lightbourne & family, Dwight Pinder & family, Oscar Pinder & family, Gregory Deveaux & family, Stanley White & family, Lunsworth Lightbourne & family, Elisha Pinder, Hercules Clarke & family, Al Russell & family, Patricia Roberts, George Bain, Ronn Fox & family, Candis Pinder, Lavar Burrows, Ernest flowers, Tyrone Saunders, Sherwin Pinder, Raymond Bain, Nelson Davis, Freddie Russell Victor, Augustine, Basil Cartwright, Timothy bain & family, Dave Thurston, David Lightbourne, Preston Roberts & family, Madalyn Scott, Daphne Bain & family, Sam Roberts, Adolphus Pinder, Nathalie Burrows, Nurses & Staff Govt. Clinic, St. Martin's Church family, Assembly's of God Church family, Mt. Zion Baptist Church family, Entire community of Sandy Point, & Crossing Rocks.
Friends may pay their last respects at the Rock of Ages Funeral Chapel on Wulff Road and Pinedale on Thursday, 22nd May, 2014 from 9:00 p.m.-1:00 P.m; and on Friday From 3:00 p.m. in Sandy Point Abaco, Bahamas until funeral Time on Saturday.