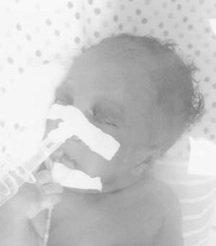 Faith Rickia Smith
unknown - unknown
Funeral Service for the late Baby Faith Rickia Smith age 3 month of Nassau Village will be held on Saturday at First Holiness Church of God, First Holiness Way, Bamboo Town Saturday at 11:00am. Officiating will be Pastor. Bernardette Moss assisted by other ministers of the gospel. Interment will follow in Lakeview Memorial Gardens, J. F. Kennedy Drive.
Parents: Lewchea Dickinson & Dominique Smith. One brother: Dominique Smith Jr. Two sisters: Marvanette Laing, and Omia Smith. Grand Parents: Velma & Elon Dickinson, Donna Rolle & Tywman & Pandora Neely. Great Grand Mother: Helen Smith & Joyce Neeley. Uncles:Vardo Tywman Jr Angelo Smith, Elon, Kyo, Joseph & Kim Dickinson. Aunts: Rotunda Dickinson, Rosalie, and Deandra Rolle, Deanker & Jason Taylor, Tamara. Great Grand Aunts: Maria Garland, Zerline & Wilfred Brown, Celestine & Steven Williamson, Natasha & Pater Hall, Elva & Ruthmae Brown, Angela Stubbs, Christine Sands, Sandra Ferguson, Janice Gray, Helen Hall, Barbara, Pamela, and Rochelle Smith. Grand Uncles: Edward, Jeffery, and Drexel Smith, Ivan, Bruce, Larry, Rodney & Mavis Brown, Alfred, Ali & Kerrie Brown. God Brothers: Bernardo Serasii, Carvaro Mackey, Xavier McKinney Jr, Micheal Miller Jr, Jose Miller. Cousins: Shawn, Deandra, Nevaleka, Leslie, Ashley, Kennika, Krishanna, Kenisha, Kyra, Gena, Kriston, Kristofferson, Kendal Jr, Dominique, Cory, Corey, Howard Bowe II, Shelon & Shaniah Dickinson, Lemaneka Brenne, Kyo Jr & Asia Dickinson, Jaymia Glinton, Amos Smith, Samantha & Shandera Stubbs, Romel & Amanda Sands, Timmothy & Katie Dorsette, Shacara, Wenzen, and Nicole Fergurson, Tiawan & Madison Hanna, Cordero Collie, Baronette & Baron Bray, Hallis, Hallen, Delvin Jr, Destiny & Devon Hall, Jamal, Kayleysa, Gabriella, Jeffery, Shanaye, Jaheam, Shantcie & Emmanuel Smith, Chertavinique Wright, Cartia, Nicolas, Carissa, Marissa, Paris, Teana, Shamacka, Mackay, Miracle, & Elisha Sands, Tamia, Kizzio, & Timothy Dorsette, Andea, Tyland, Tyanna, Otanna, & Deno Molly. Other relatives include: Nathlie Rolle & Family, The Miller Family, The Roberts Family, The Almonor Family, Brittney Clarke & Family, The Cox Family, and The Maycock Family. Minnie Street Family, and Nassau Village Family.
Relatives and friends may pay their last respect at Evergreen Mortuary, located on Collins & 5th Terrace on Friday from 10:00 a.m.- 6:00p.m. and again at the church on Saturday from 10:00a.m. until service time.