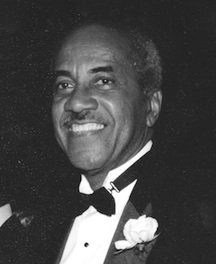 Calvin George Cooper, Sr
unknown - unknown
Funeral Service for Mr. Calvin George Cooper, Sr. of Fortune Bay, Freeport Grand Bahama, and formerly of Nassau, will be held on Saturday, May 24, 2014 at Mary Star Of The Sea Catholic Church, East Sunrise Highway at 2:00 in the afternoon. Officiating will be Father David Cooper. Interment will follow in the Grand Bahama Memorial Park #1, Frobisher Drive.
Mr. Cooper is survived by his wife of 60 years, G.E. Patricia Cooper (nee Powell), and six of his seven children: Gwynneth JoAnn Cooper, Calvin Cooper, Jr., Marcia Winder, David Cooper, Lisa Codella, Meredith Cooper, and honorary daughter, Shelly Perez. He was predeceased by his son, John F. Cooper. Other family and friends blessed with the legacy of his love are, son-in-law: Terrance Winder; daughter-in-law: Cindy Haas-Cooper; grandchildren: Valentino Cooper, Mark Winder, Randi Winder, Marlena Leonard, Nathan Cooper, and Farah Flowers (honorary); great-granddaughter, Gabriella Winder; brothers: Livingston Cooper and Henry Cooper; sisters: Roslyn Cooper, Christine Adderley, and Florence Deveaux; brothers and sisters-in-law: Joan and Lloyd Higgs, Edith Powell, Zeta Cooper, Maydell Cooper, and Ivan Deveaux; and a host of nieces & nephews including Linda Symonette, Kathryn Leach, Kirk Ingraham, Robert and Craig Powell, Borden, Lloyd, and Brachelle Higgs, Dorothy Cooper, Ahmad Cooper, Jennifer Major, Vernal Colebrooke, Rosemary Smith, Debbie Cooper, Burleigh Cooper, and Fr. David Cooper.  
Cherished lifelong friends, especially: Mr. and Mrs. Oswald Isaacs, Mr. and Mrs. Carver Grant, Mr. and Mrs. George Cox, Dr. and Mrs. Cecil Bethel, Dr. and Mrs. Larry Bain, Mr. and Mrs. Kenneth Basden, Mr. Dennis Curry, Mr. Lou Parker, Mr. and Mrs. Neil Headley; his golfing family of the Bahamas Golf Federation and the Bahamia Country Club Members Golf Association; and his fellow thespians in Nassau and Grand Bahama especially members of the Grand Bahama Players.
In lieu of flowers, donations may be made to either of two causes "Mr. C." held dear: the Cancer Association of Grand Bahama (P.O. Box F-41635) or the Bahamas Golf Federation Junior Golf Program (PO Box F-41790).
Relatives and friends may pay their respects at Yager Funeral Home & Crematorium, Queens Highway Freeport on Friday from 12:00 noon until 6:00 p.m. and at the church on Saturday from 1:00 p.m. until service time.