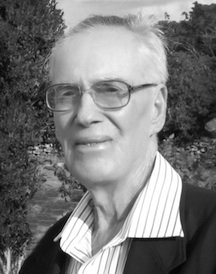 Arlington Ashbert Knowles
unknown - unknown
Arlington Ashbert Knowles, 91
Of Mangrove Bush, Long Island
Funeral Service for Arlington Ashbert Knowles, 91, of Mangrove Bush, Long Island will be held on Saturday May 24, 2014 at 11:00a.m. at St. John's Anglican Church, Buckley's, Long Island. Officiating will be Canon Harry Ward. Interment will follow in the Church Cemetery, Buckley's, Long Island.
Left to cherish memories:
His wife: Alma Knowles; Son: Eric 'Train' Knowles; Daughters: Gwendolyn Bayles, Patronella Knowles, Irene Goudie, Esther Rassin, Josephine Knowles, Angela Freeland; Daughter-in-law: Patricia Knowles; Sons-in-law: Paul Bayles, Jeffery Knowles, Peter Goudie, Barry Rassin, Dominic Scacci, Nicholas Freeland; Grandsons: Shawn Knowles, Brent Knowles, Trevor Knowles, Quint Knowles, Desmond Knowles, Dwain Bayles, Ian Bayles, Kevin Knowles, Brian Goudie, Justin Knowles, and Christian Freeland; Granddaughters: Olivia Cottis, Heather Knowles, Bianca Andersen, and Lauren Knowles; Great-grandchildren: Ethan Knowles, Jake Knowles, Adam Knowles, Cassandra Knowles, Jordan Knowles, Hailey Knowles, Jayden Knowles, Emily Bayles, William Bayles, Lily Bayles, Jenna Bayles, Zachary Knowles, Hannah Knowles, Aria Goudie, Kofi Goudie, Kadeen Sweeting, Blake Cottis, and Adriana Cottis; Granddaughters-in-law: Rachel Bayles, Tania Bayles, Robin Knowles, Cindy Knowles, Lauren Knowles, Lisa Goudie, and Kai Knowles; Grandsons-in-law: Gregory Cottis and Sam Andersen; Sisters-in-law: Isabel Knowles, Geneva Cartwright, Theresa, Dorene, and Thelma Burrows; Brothers-in-law: Emerson and Edgar Burrows; Numerous nieces, nephews including: Una Carr, Pamela Brozozog, Deborah, Bernadette and Craig Knowles, Dwight Knowles, Rupert Knowles, Madeline and Ivy Cartwright, Gloria Pratt, Laurin, Lindy, Wesley, Earl, Naomi, and Alda Knowles, Louise Cartwright, Gloria Darville, Millie Cartwright, Predencia Carroll, Barbara Jesabatham, Martha Cartwright, Paula, Keith, Paul and Jess Knowles, Percy, Douglas, Brice, Champ Knowles, Jessima Hunt, Dorothy Burrows, Ronnie, Gary, Sylvester, Christopher, Damien Burrows, Sherry Knowles, Patsy Cartwright, Karen Patterson, Randy, Lester, Brian, Ricky Burrows, Wynette Knowles, Rosemary Roussos, Stacy Burrows, Timmy, Peter, Matthew Burrows, Sandra Cartwright, Maxine Rahming, Shirley Russell, Gail Bethel, Cathy Monzell, Andrew, Paul and Wren Cartwright, Jackie and Shelia Knowles, Michelle Smith, Fiona Roker, Sandy, Edison, Everette, Allan, Lennox, Daniel, Shane, Wesley Cartwright, Donovan, Sean, Godfrey, Denver, Maria and Therez Cartwright, Mizpah and Debbie Hall, Barbara Wells, Brennen Cartwright, Randy Burrows and Sabrina Heastie. Other Relatives and Friends including: Ivan & Etoile Knowles, Jane Knowles, Chester & Ruth Knowles, Maxwell & Adeline Knowles, Barbara Knowles, Ida Fox, Jerry & Darlene Knowles, Rowena Knowles, Jacob Knowles, Jamie Knowles, Nadine Schuermann, Elvis Knowles.
Viewing will held at the church from 5pm Friday until service time Saturday.
Arrangements by Vaughn O. Jones Memorial Center, Mt. Royal Ave. & Talbot St. Nassau, The Bahamas.