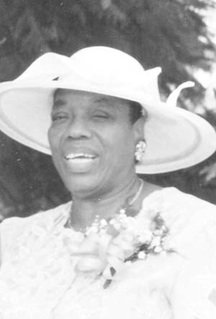 Weehaza Peet-Cooper
unknown - unknown
Celebrating the Life and Times Of The late Reverend Weehaza Peet-Cooper Age 75yrs, a resident of Nicholl's Town, North Andros, will be held on Saturday May 17th 2014, 10.00 a.m. at Zion South Beach Baptist Church, Zion Boulevard, South Beach. Officiating will be Bishop B. Wenith Davis assisted by Reverend Peter Pinder, Reverend Archelaus Burrows, Reverend Iphill Russell and Reverend Wilton Strachan.

FINAL RITES AND BURIAL
Final Rites and Burial for the late Reverend Weehaza Peet-Cooper Age 75yrs, will be held on Saturday May 17th 2014, 2.00 p.m. at Mizpah Baptist Church, Nicholl's Town, North Andros. Officiating will be Reverend Iphill Russell assisted by Reverend Peter Pinder and Reverend Archelaus Burrows. Interment will follow in the Public Cemetery, Nicholl's Town, North Andros.
She was married to Mr. Harold Cooper (deceased) but leaves behind to cherish her precious memories are her Children: Verdant and Alean Scott and Terrance Peet, Adopted Daughter: Monique "Mae" Evans, Five Grandchildren: Vernishka, Verchante', Verlecia, Verdant and James Scott, Great Grand -Daughter: Kiiana Hanna, Two Brothers: Ellis and Arthur Peet, Two Sisters: Rev. Merlene Smith and Slyvia Russell, Two Brothers-in-Law: Rev. Fred Russell Jr. and William Adderley, Two Sisters-in-Law: Inez and Vernincha Peet, Fifteen Nephews: Glenroy Oliver, Trevor and Perry Williams, Antonio Butler, Larry and Ellis Peet Jr., Orson, Sean, Vincent, Cyril, Doyle and Devon Peet, Rev. Kevin, Bradley and Antoine Russell, Twenty Nieces: Sharon and Andrea Lockhart, Davina Peters, Carol Williams, Eva and Edith Peet, Gloria Taylor, Peggy and Ellery Clarke, Diane Primo, Christine Duncombe, Yvette Smith, Timia Carter, Jennifer and Ruby Peet, Dr. Renee' Peet-Iferenta, Karen Stubbs, Linda and Carrah Russell and Erica Wright, and a host of Other relatives and friends including: Numerous Grand and Great Grand Nephews and Nieces, Bowleg Family, Saunders Family, Oliver Family, Riley Family, Christie Family, Treco Family, Mizpah Baptist Church Family, the Nicholl's Town Community, Dr.'s Hall, Weech and PMH Inyensive Care Medical Team.

The body will repose at the Chapel of the Saints, Sweeting's Colonial Mortuary and Crematorium, #84 Blue Hill Rd. from 10.00 am on Friday until 6:00pm and on Saturday from 9:00 am until service at the Church.