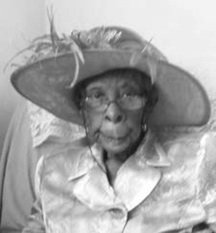 Rhona Adderley-Rolle
unknown - unknown
Funeral service for Rhona Adderley-Rolle, age 74 of # 56 Old Cedar Street, Yellow Elder and formerly of Burnt Ground, Long Island will be held on Saturday, May 17th 2014 at 11:00 a.m. at Englerston Gospel Chapel, Cordeaux Avenue. Officiating will be Rev. Ricardo Tuner assisted by other Ministers. Interment will follow in Lakeview Memorial Cemetery, John F. Kennedy Drive.
Left to cherish her memories are: her Daughter:  Theresa Rolle; Niece (Adopted Daughter):  Deaconess Rubymae Rolle; Grandson:  Leaman Rolle Jr.; Son-in-law:  Leaman Rolle Sr.; Sister:  Ida Adderley; Sisters-in-law:  Carolyn Adderley, Gwendolyn Munroe, Valarie Cooper, Janet Mackey, Margie Cooper, Rosetta Gray and Vanera Wilson; Brothers-in-law:  Ronald & Raymond Rolle; Nieces and Nephews including:  Carrymae Adderley, Deaconess Rubymae Rolle, Janice Adderley, Evangelist Gwendolyn Brown,  Ellick Knowles, Pastor Janet Brown, Louise Smith, Pastor Eulamae Johnson, David Flowers, Eddie, Christopher Johnson, Lenard Adderley, Patsy Rahming, Ivamae Weise, Rena Adderely, Leona Fowler,Demetrius Rolle, Anthony, Philip, Ricardo, Marcus, Gail, Janika Mackey, Dino Higgs, Nicko Cooper, Dereck Munroe, Glenroy Oliver,  Latoya, Belinds Higgs, Tina Cooper, Valerie Delancy, Charity, Sharon, Sonia, Joel, Mark Shanique, Michelle and Andrew; Numerous grand, great grand and great-great grand nieces and nephew and a host of other relatives and friends including: John and Stephanie Dean, George, Albert, Sarah, Stella, Cathlene Brice, Pastor Barbara Rahming, Louise Bodie-Knowles, Idella Wilson, Grace Ferguson, Virgina Pratt, Herbert Johnson and family, Muriel Thompson and family, Allen Lightbourne, Rodney Hall, Janet, Barbara, Joannie, Thelma, Eddy, Nancy, Roberta, Jackie, Judy, Garth, Stephanie, Kevin, Susan, Paula McGregor, Ursula Chisholm, Theodore, Hillary Bethel, James Shearer and family, Natasha, Patrice Adderleys, Conchita Darling, Dr. Ebbie Jackson and family, Dorothy Taylor and family, Denika Smith, Eunice Smith and family, Barbara Rolle, Susan Murry, Carson, George, Basil, Novitska, Cheralda, Anastacia, Anithra, Cadria, Atrinique, Cadwell, Nahassah,Temra, Clistine, Harvey Sweeting,  Roslyn Bethel, Rudy McPhee, Ella Thompson and family, Pastor Ricardo Turner and family, Eva Rolle, Charity Brennen, Genevia Dames, De'Angelo Roxbury, Cecile Wilson, Lolita Johnson, Barbara Minus, Deborah Bodie, Christine, Esley and Barbara Burrows, Valentino Burrows, Avrey, Avard Cargill, Jackie, The Englerston Gospel Chapel family, The Yellow Elder Community, Dr. Eleanor Fung Chung, Epcot Medical Centre and staff,  The Buildings Control Division  MOW & UD, BEC and many others too numerous to mention.
The body will repose in the Blessed Redeemer Chapel at Ferguson's Funeral Directors, 7th Terrace Collins Avenue, on Friday from 10:00a.m. - 5: 00 p.m. and at the church on Saturday from 10:00 a.m. until service time.