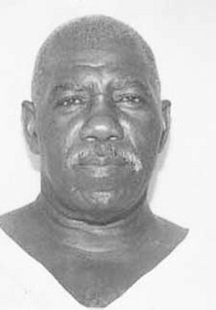 Hiram "Hilo" Nathaniel Larrimore
unknown - unknown
Funeral service for
Hiram Nathaniel "Hilo" Larrimore, 74
a resident of Atlantis Court, Golden Gates #2 & formerly of Arthur's town, Cat Island, will be held at St. Gregory The Great Anglican Church, Carmichael Road, on Saturday 17th May, 2014 at 2:00 p.m. Officiating will be Canon S. Sebastian Campbell. Cremation follows.
Left to cherish his unforgettable memories are his wife: Esther; TWO DAUGHTERS:, Karen & Kasa; SONS IN-LAW: Novell & John; SON: Insp. Alpheus Kemp RBPF; DAUGHTER IN-LAW: Sr. Nursing Officer Lauralee Kemp; GRANDCHILDREN: Jerome, Shonell, Renaldo & Shantell, Shanay, Shakara, Allyson, Dwight & Emily, Jermaine, Crestwell, Albert, Devonte, Nathareo, Gerald, Sebastian & Aaron; GREATGRAND CHILDREN: Trevor, Ashanti, Shaton, Shantanique, Allaya & Raquon; ONE BROTHER: Felix Larrimore; ONE SISTER: Venus Dean (Tampa, FL); BROTHERS IN-LAW: Leonard Dean & Norman Anderson; SISTERS IN-LAW: Eulamae Larrimore, Leuida Larrimore, Remilda Larrimore, Charlene Larrimore, Rachel Thompson, Geraldine Anderson, Merlene & Elvera Munnings; NEPHEWS: Eric, Enoch, James, Cedric, Solomon, Charles, Hunsprey, Derran, Andrew, Stephen, Marco, Sidney, Renaldo, Willis, George, Maxwell, John, Lynden, Randolph, Vincent, David Farrington, Stephen, Christopher, Michael & Howard Anderson (West Palm FL.), Francis,Sanford,Bradley,Dennis,Jarvis,. NEICES: Francina, Jeanette, Jennie, Christina, Rose, Melissa, Annaka, Carolyn, Shanell, Joyce, Monique, Sherella, Shandia, Sharanda, Lavonya, Brittney, Vanria, Mauren, Maxine, Denise, Elaine, Ellamae, Sandra, Naidine, Yolanda, Marilyn, Kenris, Pandora, Althamese, Valarie, Dedrie Reckly (Ft.Myers,FL); Other relative and Friends Including: Father Sebastian Campbell, Mary Basden, Rose, Tony, Mr. & Mrs. George Ferguson &Family ,Benjamin Dames & Family, Patricia Rolle & Family, Harriet Ferguson, Christine Adderley, Eugene Coakley & Family, Chris Justillien & Family, David & Gertrude Flowers, Edith Young, Bishop Walter & Elder Minalee Hanchell, Mr. & Mrs.Cherenfant, Vera Farrington & Family. A host of relative & Friends too numerous to mention.
Friends may pay their last respects at Demeritte's Funeral Home, Market Street, from 10-6:00 p.m. on Friday & on Saturday from 9-12:00 p.m. & att he church from 1:00 p.m. until service time.