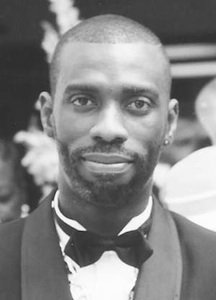 Gary Glen Miller
unknown - unknown
Funeral Service for the late Gary Glen Miller age 53 years of Freeport Grand-Bahama will be held on Sunday May 18 201at Maranatha S D Adventist Church at 1:00p.m. Officiating will be Pastor Henry Moncur assisted by other ministers if the gospel. Interment will follow in the Southern Cemetery, Cowpen & Spikenard.
He is survived by his daughter: Gardeasha Williams Miller, mother: Withleen Penn, siblings: Cyril (Tony) Smith, Elvardo and Patrice Rahming, Desiree, Jovan, Jaret and Zsa Nae Pinder, Darcel Penn, Linda Thomas, Denise, Michelle and Parrish Miller, aunts: Willa Mary Willis of Miami Florida, Gertrude Russell, Prescola Penn and Viviar Penn, uncles; Inglis and Ernest Penn, grand-aunts; Cecilia Smith and Doris Bain, nieces and nephews; Jamal, Daniel, Serenity, Desmond, Sha- londa, Elvardo Jr. and Khadijah , Shavon, Ja'lique, Lynden Jr., Shaquae, Jeanette, Ricardo, cousins including; Lisa, (Tyrone), Tyrone Jr., James White, Judy, Alma, Terrance, Mark, Julian, Zulima, Tonevia, Diondra, Ernesto, Nicola, Roc elia, Adrian, Lamont, Alicia, Lakeria, Latherina, Rudolph Jr., Troy, Nyoshie, Nyoka, Tanisha, Shantell, Alvio, sister-in -laws Jancimae Smith, Cleo Rahming, brothers-in-law Arnold Duvalier, Solomon Neely, Lynden Pratt, Rev. Thomas, other relatives and friends including; Leanza Pople and family, Sally Colebroke and family, Kay Larimore and family, Elizabeth Russell and family, Beaulamae Fowler and family, Linda Evans and family, Sylvia Bain and family, Fairleen Missick, and family, Alexander Bain and family, Steve Bain and family, Veronica and Harold Curry and families, Nikkie Gibson and family, Marilyn Nottage and family, Irene Johnson and family, Livingston Pinder, Glenroy Fox and family, Yvonne Miller and family, Francina Levarity and family, Vernita Dean and family,Whitey, Chunky , Rissa, Santina, Jadian, Jadon, Kessa, Sanaa,, Dwiesha Manny, Clyde, Slim and Gayleen, Jake Lillian, special thanks to; Pastor Moncur and family, Pastor Tinker and family, Pastor Rahming and the extended Seventh Day Adventist Churches, especially Mr. Brown, Fred Rolle, Elizabeth Jones and family, Jane Pratt and family, Desiree, Coleen, Lisa, the Lockhart's, Sands, Smiths, Moncur's, Cooper's, Cambridge, Missick, Colebrooke, Stubbs families, Ms. Laing, Ms. McKenzie, Garth Russsell. The extended, Penn, Miller, Thompson, Johnson, Williams, and Lightbourne families. The Staff at Princess Margaret Hospital, The staff at Rand Memorial Hospital in Grand Bahama, especially, The Accident & Emergency Dept. The Medical Ward and Doctors esp. Dr. Odia Stubbs, The Surgical Ward and Doctor esp. Dr. Nesbitt the staff at Evergreen Mortuary esp. Denalee. The Pastors and members of The Maranatha Adventist Church, The Hay Street community, Bruce Ave family and a host of other friends and family too numerous to list.
Relatives and friends may pay their last respect at Evergreen Mortuary located on Collins Ave & 5th Terrace on Friday from 10:00a.m. – 6:00p.m. and again at the church on Sunday from 12:00 noon until service time.