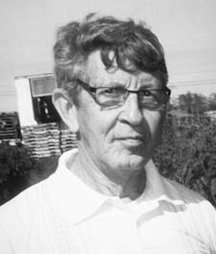 Charles "Chef Charlie" Francois Mazuir
unknown - unknown
Funeral service for
Charles, Francois "Chef Charlie" Mazuir, 69
a resident of West Street & formerly of Bourg en Bresse, France, will be held at Southland Church of God, Soldier Road, on Saturday 17th May, 2014 at 11:00 a.m. Officiating will be Bishop Kirkland Smith. Interment follows in Woodlawn Gardens, Soldier Road.
Left to mourn are his 4 sons: Kacy, Yonnic & Bernard Mazuir and Sydney Clarke; 2 daughters: Dellerese Mazuir-Strapp & Lisa Stewart of Ft Lauderdale; 7 brothers: Daniel, Bernard & Jean-Paul Mazuir, & Piacide Lombard of France, Alvin & Carl Clarke & Hollis Thomas of Ft. Lauderdale; 10 sisters: Gisele, Maryse & Anne Marie Martina of France, Evangeline Mackey, Vivian Sealey, Pearl Curry, Gloria Pratt, Marie & Ethel Clarke, Peggy Thomas of Ft Lauderdale; 9 grandkids: Vaughn, Telise & Shevante Stewart of Ft Lauderdale, Kacie, John, Christian & Kerstin Mazuir & Araja Bethel of Texas, Kassidy & Sanjay Strapp; Sons-in-law: Elvis Strapp & Ted Stewart of Ft Lauderdale
Daughter-in-law Mychele Mazuir; Nephews: Fabrice Mazuir, Jean Lombard of France, Kennedy Pratt, Elliot Gibson of Miami, Fred Callender, Anthony Adderley, Alban Culmer, Kevin, Brent, Christopher, Owen & Paul Curry, Greg & Otis Mackey, Shane, Aldo, Orson, Boaz, Chris, James, Deneal & Bradley Clarke, Al Culmer, Damien & Haden Thomas, Kaynel Clarke; Nieces: Geraldine & Gabrielle Mazuir, Cecile, Charlotte & Stephanie Lombard, of France, Amadine Genessay Karen El Begar , Christian, Dexon & Kayla & Patrice Callender, Simone Thomas, Debra Bridgewater, Brenda Mackey, Alma Clarke, Annalisa Johnson, Deandra Miller; Other family & friends include: Beulah Edden of West Palm Beach, FL, Tricene, Shiela, Charles, Debbie, Doyle, Byron Strapp, Dion Pratt, Jason Mackey, Julius Knowles, Deon Knowles, Lorraine Barr, Venetta Jones, Monique Sands, Patreeka,Joan Light bourn, Diana Miller, Stacy Burnside, Tansihka & Charles Bain, Delvis & Bronley, Gaynell & Neal Albury, Garnell & Barren Pratt, Medline & Sam Johnson, Anisa & Boyd Manbode, Yohanson Stewart, the Barr Family, George Myers, Anthony's Caribbean Grill & Restaurant, Nassau, Beach Hotel, Shark Bite & Dive In Paradise Island Families, Dunkin Donuts & Burger King Families, Vision of Hope Church & Southland Church of God.
Friends may pay their last respects at Demeritte's Funeral Home, Market Street, from 10-6:00 p.m. on Friday & on Saturday at the church from 10:00 a.m. until service time.