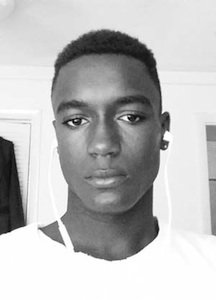 Braven Hanna Young
unknown - unknown
Funeral Service for Braven Hanna Young age 18 affectionately called "Shappel" of Constitution Drive Chippingham, who died April 28th, will be held on Saturday 10:00 a.m. at Grave Community Church Palmetto Village. Pastor Leroy Hanna will officiate and interment will follow in Woodlawn Gardens Soldier Road
Cherished memories are held by
Mother – Nichole Hanna,
Father – Captain George Young,
Grand Mother – Janice Hanna,
Grand Father – Patrick Gardiner,
Brothers – Antonio Curry, Gerrad Pelletier, Glen, Graham, Theodore and Lucas Young
Sisters - Blakely and Bree Hanna, Alicia Young,
Uncles – Michael "Sarge" Hanna (Stephanie), Leroy and Sergio Hanna, Patrick A. Gardiner Jr. (Erica), Anthoin M. Seymour, Davon A. and Da'Shan V. Gardiner Sr. (Shonell), John White (Gracie), Ronald Yound (Erestine),
Aunts – Shavone S. Gardiner, Cleopatra Murphy,
"Aunts" – Charmaine Miller (Bernard), Anastacia Hanna (Rod),
"Uncles" – Kevin, Dennis, Garreth and Bradford Hanna,
Grand Uncles – Kendal and Leslie Hanna, Leonard Bain,
Grand Aunts – Carol Williamson (Lewis), Joan Pratt (William), Lorraine Knowles Hanna-Hutchins, Linda Bain McCaulsky, Cousins – Tristan and Travis Miller, Colette and Paige Hanna, Leroy Hanna, Kendra Colebroke, William, Wiljon and Wilette Pratt, Alexis Williams, Logan McCaulsky, Roddae Bethell,
Other Relatives including – Beryl Barnett and Family, Mizpaha Antoine and Family, William and Deloris Berry and Family, Rudy and Janet Gardiner, Norman Gardiner and Family, Vincent Gardiner and Family, Judy Gardiner and Family, Colin Gardiner and Family, Samuel Young, Samyatt Young, Winnie Thompson, Andrew and Anthony McKinney, Janet Davis, The White Family.
Relatives and friends may pay their last respects at Newbold Funeral Home Palmetto Avenue and Acklins Street on Friday from 11:00-7:00 p.m. and at the church on Saturday from 9:00 a.m. to service time.