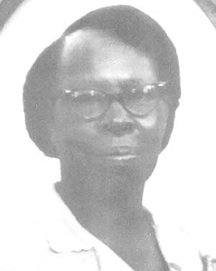 Ardena Rowena Newry
unknown - unknown
Funeral service for
Ardena Rowena Newry, 98
a resident of #53 East Ave., Carmichael Road, & formerly of Lovely Bay, Acklins, willl be held at Church of God of Prophecy, East Street Tabernacle, on Satyrday 17th May, 2014 at 10:00 a.m. Officiating will be Minister Randolph P. Curtis, assisted by Lay Minister Melvin Lundy. Interment follows in Western Cemetery, Nassau Street.
Left to cherish her memories are her CHILDREN: Dr. Eugene (Francoise), Randolyn (Florence), Clarence Jr. (Antoinette), Alphonso Sr. (Patricia), Dereck Sr. (Louise) and Cyprian (pre-deceased) Newry, Ethlyn Armstrong (Irwin), Florence Pedican (Andrew), Yvonne Sands and Geraldine & Chrisopher Pinder (pre-deceased); 55 GRAND CHILDREN: Alain (Azaleta), Eugene F. (Yvette), Pascale (Michael), Mitsouko (Ocester deceased), Katra, Cecilee, Lewellyn (Nicole), Garfield (Antoinette), Rhonda, Hollis (Barry), Berton (Maria), Sheldon, Claudia (Theodore) Eugene, Dwight (Milissa), Natasha, Shawn (Andrew), Reggie, Tricia (Maurice), Soniquia, Mikelle (Carson), Randolyn Jr., Ethan, Kendra, Chante (deceased), Nikera, Renardo, Mario, Mariette, Marelle, Alphonso Jr., Autneal, Keith, Camille (Kevin), Chandra, Everette III, Natasha, Clarence, Chrisnar, Carlton Sr. (pre-deceased), Antonique, Toyel Sr. (Cindina), Cyprianna (Ricardo), Kijana (Wesley), Antonio, Cyprian Jr., Trayon, Dennis, Dereck Jr., Antonia, Tamika, Shemika, Makeda, Shacara (pre-deceased) and Shakera; 69 GREAT GRAND CHILDREN; Ameera, Anjali, Gabrielle, Matthew, Imanuel, Michael, Catherine, Sebastian, Joshua,Taj-lien, Antonae, Joel, Jonathan, Tyla-lien, Barry Jr., Abigael, Kemuel, Justin, Enosha, Antonio, Devonne, Letisha, Eugena, Joshua, Rashad, Sherece, Shawndrika, Laquinta, Alexandria, Scott, Dawn, Britney, Chaz, Jasmine, Keri, Matthion, Matthias, Ranaldo, Ramon, Randolyn III, Macbyn, Maeere, Makinlee, Carelle, Marae, Kayneisha, Jonelle, Domimique, Tanae, Carlton Jr., Coran, Toyell, Iiesha, Caleb, Kriston, Nakovie, Clarence Jr. (deceased), Ishmael, Andriel, Toyel Jr., Rickia, Breon, Antoiniesha, Wesley, Triyel, Rayne, Aisha, Aeisha and Caryn; 19 GREAT GREAT GRAND CHILDREN; Shavante, Tanae, Eugene III, Britney, Gerrard, Leo, Jimron, Jallil, Kahil, Alonzo, Anpherney, Wendriko, Patiens, Laquont, Ariana, Amari, Devaje, Khayden and Khaithlyn; IN-LAWS- Cecil and Mildred Newry & Family; NUMEROUS NIECES, NEPHEWS & COUSINS INCLUDING: Vilda, Minister Sarah Ferguson & Family, Firlene Collie, Frank Dean, Vernal and Tommy Moss, Kermit Ford & Family, The Family of the late James Newry and The Family of the late Harold Newry; OTHER FRIENDS AND RELATIVES INCLUDING:The Carmichael Road Church of God of Prophecy, Pastor Randy Curtis and Family, Deacon Melvin Lundy and Family, The Culmers, The children of the late Degal Seymour and the late Hattie Johnson, Georgie Rutherford, The Sweetings, The Fergusons, The Flowers, The Dottins, The Millers, The Currys, The Benebys, Cynthia Hall & Family, Merryl Hall & Family, Patsy Treco & Doreen Moir, The East Ave Family, Members of the Entire Church of God of Prophecy Family, Doctors and Nurses of The Female Medical I and Female Surgical II, Staff at Burns House, Staff at The Ministry/Department of Social Services, Staff at Government Printing, Department and staff at BTVI and numerous others.
Friends may pay their last respects at Demeritte's Funeral Home, Market Street, from 10-6:00 p.m. on Friday & on Saturday at the church from 9:00 a.m. until service time.