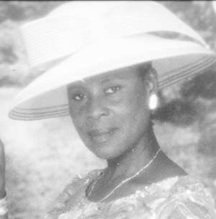 Alnora Mae Darling
unknown - unknown
Funeral Service for the late Rev. Alnora Mae Darling age 66 years of Blue Hill Estate and formerly of Blanket Sound Andros will be held on Saturday at Church of God Auditorium, Joe Farrington Road at 10:00a.m. Officiating will be Bishop Trevor Williamson assisted by Bishop Addington Rolle. Interment will follow in Woodlawn Garden Cemetery, Soldier Road.
She is loving survived by:
Sons: Aaron Woodside, Durrell Gray,
Chadson Gray, Keith Burbridge
Daughters: MelvernNewton- Duvalier,
Tineka Burbridge
Brothers: Joseph Darling, Deacon Leon Darling,
Wellington Fowler
Sisters: Alma Scott, Beryl Fowler, Rowena Butler,
Esther Cargill
Grandchildren: Macarra Fowler, Lauren and Erin Woodside,
Durrell Gray Jr., Dontrell Gray, Caden
Burbridge, Tineccia, Savannah and Kennah,
Gray, CavannGray, Dana Bain,
Great Grandchildren: De 'Chanel Rolle and Harmony Gray
Daughter (s) 'n Law: Lorinda Woodside and Cathy Gray
Son (s) 'n Law: Keith Burbridge
Nieces and Nephews: Hesley and Norma Scott, Livingston and
Murle Miller, Calvese and Alicia Saunders,
Susan and Ethel Smith, Jody
Joith, Joann, Joyith, Joel and Geoconne
Darling, DeAnn and Dwayne Williamson,
Dwayne, Shantell, Marvin, Stephen and
Peggy Darling, Chadrell Clarke, Kirklyn,
Kendra and Tiffany Carter, Claude
Fernander, Shandeka Adderley, Edwin,
Jeremiah and Jerry Taylor, Tyrone and
Amber Gibson, Shanrose and Arlington
Thompson, Meka, Shonna, Stephon,
Mariquita and Dia Fowler, Kerrio Cargill,
Quadassio, Melinda, Alexia, Michael and
Zakarriyya Cargill, Rogena Thompson, Anna
Annarine Martin and George Hamilton.
Cousins: Rose and Zenas Mackey, Antoinette
Thompson, Pastor Monica Paul, Willamae
McGregor, Det. Const. Garnet McGregor,
Paula McGregor, Erma McGregor, Jennifer
Roberts, Ettamae Moss, Debbie, Lacitus,
Janet, Tyrone, Edward, Wendel, Eric
And Patsy McGregor, Isadora and Carl Scott,
Alladice Johnson, Joy Buchanan, Jill Bain,
Crystal Mackey, Bishop Deon Mott, Pastor
Tyrone Mott, Sharon, Colleen, Patrick,
David, Jeffrey, Annathol, Christine, Brenda,
Ernest, Robertha, Lesley, Gwen, Steve,
Annadel, Dian, Doramae, Angela, Trevor,
Ann and Alana; A host of other relatives and friends including the Ebenezer Baptist Church Family.
Relatives and friends may pay their last respect at Evergreen Mortuary, located on Collins Ave & 5th Terrace on Friday from 10:00a.m. – 6:00p.m. and again at the church on Saturday from 9:00a.m. until service time.