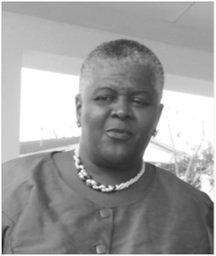 Miriam Theresa Willis
unknown - unknown
Funeral Service for the Late Miriam Theresa Willis, 56 years of #20 Warren Street, will be held on Saturday September 28th, 2013, 10:45 a.m. at St. Joseph's Roman Catholic Church, #47 Boyd Road. Fr. Jude Muokwe, M.S.P., assisted by Deacon Gregory Taylor will officiate. Cremation will follow.
Miriam is survived by:-MOTHER: Mrs. Irene Louise Willis; SISTER: Patricia Willis- Coleby; BROTHERS: Lesley, Anthony and Christopher Willis; NEICES: Lesley Bannister, Abbigayle Armaly and Cydne Coleby; NEPHEW: Darius Willis and Garcia Bannister; GRAND NEPHEW: Braylen Bannister; ADPOTED SISTER/COUSIN: Annette Allen; AUNTS: Dillis Ingraham, Mildred Mc Kinney, Verdell, Esther and Annis Mcphee, Sylvia Willis, Brenda Frater, Toni Thomas, Gwendolyn Willis, Velta Willis, Meta Bethell and Keva Nethersole; UNCLES: Lawrence, Gettis and Newton Willis and Prince McKinney; GRAND AUNT: Mary Sweetnum, Kathleen Demeritte; BROTHER-IN-LAW: Carlton Coleby; GOD CHILDREN: Keith & Kiara Major, Ajnessa, MartinII & Oliver Lundy; BLOOD SISTERS: Angela Smith, Marie Cash, Flora Davis, Laurel Lundy, Wendy Major and Joann Savin; OTHER RELATIVE AND FRIENDS: Annette & Michael Allen and family, Brenda & Bert McKinney and family, Margaret & Lawrence Thurston and family, Sheralyn & James McCartney & family, Valerie & Roger Carpenter and family, Margaret Russell and family, Deborah Bassett and family, Stephen & Shervin Seymour and family, Stephanie Mackey & family, Gregory, Julian & Kevin Ingraham and family, Donald Gray & family, Diana Sands & family, Santina Smith & family, Carlton Gray & family, Sheilamae Adderley & family, Carolee Gray & family, Ronald & Helen Stubbs & family, Michael & Joan Gibson & family, Almarie, Reid & family, Robert Arthur & family, Danette Arthur, Belfield Arthur, Veldora Arthur-Diop & family, Cheryl Collie & family, Pam Adderley & family, Garfield McPhee & family, Bertha, Garnell McPhee & family, Brantis Adderley & family, The children of the late Priscilla Carey & their respective families, The Demeritte family: James, Donna, Michael, Karlas, Kayla, Virginia & Edward & their respective families, Luther McDonald & family, Donna Smith & family, The children of Verdell, Esther and Annis Mcphee & their respective families, Alfred Sears & family, Olive Mckenzie & families, Meta Bethell & family, Una Elliott & family, Marcia Bannister & family, Hermean Thompson & family, Franchelle Dorsette & family, Florinda Bastian & family, The Davis Family, The Stuart family, Joyce Bain & family, The Francis family, Geneva Thorton & family, Trudy Miller & family, Constance Mackey & family, Dale Davis, James Smith, Ivan & Nancy Conliffe, The Seymour family, The McCartneys, The Kerrs, The Moncurs, Douglas Major & family, Derek Roach, The Sweeting Family, The University of Warren Street Family. TEACHING FRIENDS: Mrs. Belinda Wilson B.U.T. President, Mrs. Caroline Young, Mrs. Paula Young, Mr. Higgins Principal T.A. Thompson , Ms. Deborah Thompson Vice Principal T.A. Thompson, Ms. Elizabeth Jarrett, Mrs. Jacqueline Perpall & family, Mr. Fritz Pritchard, Mr. Byron Small, Mrs. Audrey King, Mrs. G. Glinton (Science Dept. C.C. Jr.), Mrs. Sharon Newbold, Mrs. Claudine Rolle, Mr. Anthony Blatch, Edith Forbes, Mrs, Michelle Hudson, Mr. William Zonicle, Mrs. Marva Daley, Mr. William Ingraham, Mr. Franklyn Demeritte, Mrs. Albertha Stubbs, Mrs. Patricia Wells, Ms. D. Munroe, Mrs. Willamae Pratt, Ms. Jacqueline Corlette, Mrs. Sonia Whitfield, Francilda Cargill, Ms Eulease Delancy (former Principal), Mrs. Paula Adderley (former Principal) Mr. Harcourt Davis (former Principal), Mr. J .Knowles, Mrs. Joan Brown, Mrs. Thais Russell, Mrs. Fennel Dean, Mrs. Mavis Brown, Joy Colebrooke, Mrs. Claudia Bain, Mrs. Betty Christie, Ms. Daphne Ellis, Ms. Itsa Smith, Mrs. I . Bain, Mrs. Wildgoose, Ms. Judy Mortimer, Mr. Philip Dorsette, Mr. Thomas Williams, Mrs. Marva Wellington, Mrs. Margarette Dillette, Mrs. Emeline Lockhart, Ms . Nicolette Brown, Mr. Kirk Moxey, Mr. Tracey McKenzie, Mrs, Michelle Griffin, Mr. Ken Gibson, Mrs. Jennifer Burrows, Mr. J. Duncombe, Mrs G. Springer, Mrs. K. Smith, Mrs. Doreen Thompson, Mrs. J. Miller, Ms. T. Tufi, Mrs. Monique Miller, Mrs. Jennifer Isaacs-Dotson, Mrs. Dawnette Ferguson, Mr. Haldene Stubbs, Mr. Jeffrey Turnquest, Mr. Stubbs, Ms. McLinda Bowe, Mrs. Elaine Duncombe-Williams.
Special Thank you to: Deborah Carey & family, Women of Excellence & Bahamas Faith Ministries Family, Visna Armbrister, Brendalee Lewis, Ilene Smith, Walkinsia Jean, Tyrone Miller, Hugo Andrews, Denarii Rolle & the Water & Sewerage family, Kerzner International family, Fidelity Bank Family and Club One Family.
We apologise for any names that may have been overlooked, please note that we love you all.
We are grateful to the God Almighty that he chose to place Miriam in our family. We thank you for all your prayers, words of comfort, support, visits, food, gift baskets and flowers to which we say God Bless You.
Friends may pay their last respects at Bethel Brothers Morticians, #32 Nassau Street on Friday from 10:00 a.m. to 6:00 p.m. and on Saturday at the church from 9:45 a.m. until service time.