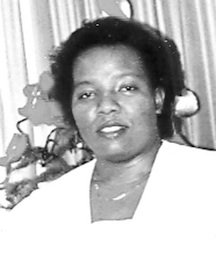 Carnila Edgecombe
unknown - unknown
Funeral Service for Mrs. Carnila Edgecombe age 48 years, Resident of # 9 Lauriel Street Pinewood Gardens, will be held on Saturday November 30th, 2013, at 11 am, at Five Porches of Deliverance Centre Apostolic Tabernacle Church, Market Street & Poinciana Avenue, Officiating Pastor Silvan Farquharson assisted by other ministers of the gospel. Cremation will follow.
Left to mourn her passing and cherish her memories are her husband, Alexander Edgecombe, sons, Jamaal, Jayson & Jareed Edgecombe, daughter-in-law, Abriel Edgecombe, grand son, Marquest Edgecombe, brothers & sisters, Eustace Duncanson, Louis Duncanson, Daniel Duncanson, Lemuel Duncanson, Mrs. Ivy Sears, Loma Duncanson, Marjorie Duncanson & Mrs. Josephine Pratt, aunt, Mrs. Marjorie Bastian, uncles, Calvin, Vincent, David, Othneil & George Duncanson, (6) six brothers-in-law, Pratt Sr., Alphonso Edgecombe, Huden Edgecombe, Lionel Edgecombe & Willington Edgecombe, (5) five sisters-in-law, Mrs. Kim Duncanson, Ms. Cynthia Duncanson, Mrs. Mary Adderley, Mrs. Jennie Wallace & Mrs. Miriam Duncanson, (16) sixteen nieces & nephews, Zion, Trez, Brittany, Asia, Marcus, Ashley, Anita, Monique, Daniel Jr., Nicolas, Daniella, Malik, Maison, James Jr., Justice & Jazion, family & friends including, Elizabeth Woodside, Celia Brown, Patrice Edgecombe, Edward Farquharson, Slivan & Dion Farquharson, Bishop Rodney & Curline Roberts & Five Porches Family, Pastor Stephen & Alisa Russell, Andrew Hanchell Sr., Nurse R. Farrington, Mrs. Bridgette Cash, Mrs. Ester Bridgewater, Joel Cunningham, Mrs. Sweeting, Mr. Perry Thurston, Miss Rochelle Wells & The Colleges of The Dialysis Unit, Children's Ward at The Princess Margaret Hospital.
Relatives & friends may pay there last respects at Riverside Funeral Chapel, Market Street & Bimini Avenue, on Friday from 10 am until 5 pm & at the church on Saturday from 10 am until service time.