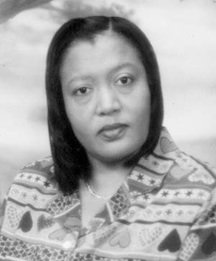 Kathleen Beatrice Baillou
unknown - unknown
Funeral Service for Kathleen Beatrice Baillou age 54 years a resident of High Rock, Grand Bahama will be held on Saturday 3rd, August, 2013 at 10:00 a.m. at St. Nicholas Anglican Church, High Rock, Grand Bahama. Officiating will be Rev'd Letha Strachan assisted by Fr. Norman Lightbourn, Fr. Alvardo Adderley, Fr. DeAngelo Bowe and Fr. Ivan Eldon. Cremation will follow.
Left to cherish her memories are her:
Husband: Eric Baillou Sr.
Children: Eric Jr., Lamount, Tiffany and Kellyandrae Baillou
Daughter in law: Shanika Baillou
Step daughter: Shenia Cartwright
Step son in law: Anton Cartwright Sr.
Step grand children: Shaniel Pinder and Anton Cartwright Jr.
Brothers & Sisters: Hansel (Blooming) Roberts, Carol (Rev. Preston) Cooper, Carolee (Bursell) Pinder, Samantha & Deshonti Roberts.
Uncle: Catechist Edward Roberts
Aunt: Blossom (Neville) Munnings
Step mother in law: Beverly Roberts
Cousins: Joseph (Mildred) Roberts, Patrice ( Mario) Feaster, Shevonne (Stephen) Munroe, Floyd Moses Smith, Claridge Kemp, Godfrey (Charmaine) Hall, Angelo (ShellyAnn) Hall, Anne (Sonny) Smith,
Step Sisters & Brothers: Mavis (Phil) Grant, Sophia (Alfred) Higgs, Beatrice, Judy, Ethal, Timmie, Orman, Oral and Fulton Collie, Marsha (Albert) Taylor and Jocelyn Thomas.
Father & Mother in law: Mr. Horatio & Mrs. Hazel Baillou
Brothers & Sisters in Law: Rev. Pedyson (Judith) Baillou, Rev. Earlyn (Joan) Baillou, Izetta (Daniel) Kemp, Sylvia (Floyd) Poitier, and Petrol Roberts
Step Parents: Mr. Prince & Mrs. Coramae Bridgewater
Best Friend: Mildred Culmer (Eleuthera), Andrea Wisdom, Jennifer Johnson and Richard Dorsette
Caretaker, Mother and Friend: Gloria Betty Newman
Godmother: Inez Pinder, God Father: Ezekiel Pinder
Twenty seven (27) nieces and nephews, eighteen (18) grand nieces and nephews,
Aunts in law: Rosetta (Leviticus) Kemp, Inez (Silbert) Fox, Lovely Pinder, Virgina Baillou, Loris Pinder and Lora Roberts
Godchildren: Johnathan Smith, Vano Roberts, Clinton Thomas, Larry Russell Jr., Keyon Dean, Joshua Cooper Jr., Allan Kenson Russell, Cruz Roberts, Elkin Finley, Malinda Rollins, Garnettra Smith, Fredricka Higgs, Kadreah Wildgoose, Jacquel Buffy Mitchell, Asia Adderley and Beyonce Tate.
Other relatives and friends: Commander Roderick, Nichole, Carol, Joyce, Bertram and Debbie Bowe & Family, Hon. K. Peter & Mrs. Turnquest, Mr. & Mrs. Shawn Thurston, Mr. & Mrs. A. Kenneth Russell & Family, Mrs. Zelma Tate, Mr. & Mrs. Leon Munnings & Family, Mr. & Mrs. Ishmael Laing, Mr. & Mrs. Van Roberts, Mr. & Mrs. Nolan Bartlett, Mr. & Mrs. Oswald Laing, Ms. Rosalee Kemp & Family, Elder & Apostle Clifton Cooper, Rev. & Mrs. Henry Cooper Jr., Mr. & Mrs. Elgin Mitchell, Mr. & Mrs. Reuben Wildgoose & Family, Mr. & Mrs. Howard Roberts, Mr. Washington Smith, Mr. & Mrs. Alexander Roberts, Mrs. Florence Ingraham, Mr. & Mrs. Oscar Newman & Family, Mr. & Mrs. Raymond Gordon & Family, Bishop & Mrs. Laish Boyd, Fr. Ian, Rev'd Erma, Vincent Claridge, Fr. & Mrs. Dwight Bowe, Fr. & Mrs. Stephen Grant, Fr. & Mrs. Norman Lightbourn, Fr. & Mrs. DeAngelo Bowe, Fr. & Mrs. Earl Hepburn, Canon & Mrs. Samuel Sturrup, Fr. Alvardo Adderley, Rev'd Letha Strachan, Dec. Jeffery & Mrs. E. Janice Hollingsworth, The Roberts, Kemp, Saunders, Smith and Pinder Families, Most Worshipful Grand Master Stanford Culmer & The Prince Hall Family, The Grand Bahama Heart Association, The Grand Bahama Softball Association, Department of Immigration, Bahamas Union of Teachers, Management and Staff of STATOIL South Riding Point, Grand Bahama Harbor Company, Dr. Curling & Dr. Turnquest & the staff of hematology oncology, doctors & nurses at Doctor's Hospital, doctors & nurses at the Rand Memorial Hospital, doctor & nurses of East End Clinic, East End Administration and Local Government, the Hawksbill class of 1977, Kathleen's Asue Club 1980-2012, Members of St. Michael & All Angels and St. Nicholas Anglican Church Family, The entire East End Community.
In lieu of flowers donations may be made to St. Nicholas Anglican Church, High Rock, Grand Bahama.
Relatives and friends may sign the register book at the church on Saturday from 9:00 a.m. until service time.