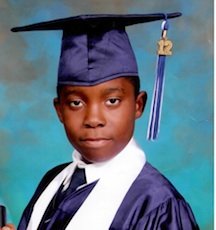 Ulric James Dames
unknown - unknown
Funeral Service for Ulric James Dames,12, a resident of Roland Avenue Boyd Subdivision will be held Saturday 1st September 2012, 11:00 a.m. at St Mark's Native Baptist Church, Romer Street, Fox Hill. Officiating will be Rev Dr Carrington S Pinder assisted by other Ministers . Interment will be made in Woodlawn Gardens, Soldier road.
Left to mourn his passing are: Parents: Nelson & Deaconess Mirlanda Dames,Brother: Rolf Louis, Sisters: Patrice & Nelrose Dames, Grandmother: Madeleine Pierre Louis, Adopted Grandmother: Rev. Sabrina Pinder, Adopted Grandfather: Rev. Carrington S. Pinder, Aunts: Patrilee Deleveaux, Joann Dames, Nerlie Pierre Louis, Theresa Faradia, Germaine, Shebbat, Patricia, Firma, Venante, Natasha, Uncles: Minister Eulin Dames, Rev. Jerome Deleveaux, Luckenson, Kinsky, Sony, Jackson, Robinson, Bruny, Patrick, Claurinsky, Limage and Daniel, Grand Uncles: Maxwell, Masco Majiste, Rev. Eulin McIntosh, Grand Aunt: Eloise Dames, Minister Adlene, Inez Pritchard, Hettie McIntosh, Donna Russell, Violet Majiste, Chantal Majiste, Morie Guerda, Nozilia, Elza and Vilisia, Cousins: J'Leyah, Charis, L'vann, Eulin Dames Jr., Chamel and Jonell Dames, Jerisha Deleveaux, Michelle, Laureen, Mary, Luterean. Toni, Sherry, Besa, Cecelia, Donnalee, Vanceta, Caralee, Genese, Lula, Anastacia, Maud, Simpson, Bradley, Spurgeon, Robert, Bruce, Louis, Peter, Edward, Lavain, Paul, Richard, Ivan, Basil, Rob, Arthur, Alexander, Adolphus, Jedd, Rudy, Barry, Irvin, Justin, Deacon Fritz & Velma Pritchard & Family, Marsha, Rufus, Rose, Ina, Nelrose, Bishop Rodney Roberts & Family, Geurda, Elionme, Inke, Trajan, Siljane, Vikes, Joe, Mrs. Tiza, Mrs. Tifrere, Celani, Linise, Lorijan, Bertral, Bertha, Mariette, Euna, Geina, Ketia, Rosemane, Jean Hubert, Bethelie Joseph & Family, Meedjimha, Sami, Aris Ashley, Leo, Niko Robens, Samintymha, Julie Antoine and Rony, Other Relatives & Friends: Bishop Michael C. and Dr. Hilda Symonette & Family, Rev. & Mrs. Richard Hanna & Family, The Davis Family of Farrington, Mr. Anthony Craigg & Family, Iranie Pierre & Family, Eric St. Louis & Family, Delvon Poitier, Althea Gibson & Family, Ann Gibson & Family, Washington LaFleur & Family, Marline St Fleur & Family, Stephanie Gibson & Family, Oria Rolle & Family, Bellande Paul & Family, Jean Elie Thessie & Family, Ederne Paul & Family, Leone Paul, Jean Paul, Inette Petit & Family, Vilita Petit & Family, Renaud Joseph & Family, Laveaux & Suzann Bonamy & Family, Special Friends: Braddy McCardy & Staff of Twin Brothers, Alfred Butterfield & Staff of Anchorage Restaurant, Pastor Inez Laroda, Pastor Lide Knowles & The Bethsaida Church Family, God-Parents: Ann Archer, Winston Rolle, Daniel Sturrup, Carl Gibson, Janne and Rev. Jerome Deleveaux, Other: The Oakes Field School Family, Bethsaida Faith Ministries Family, The St. Mark's Native Baptist Church Family, The Roland Avenue & Boyd Sub-division Family, Evangelist & Mrs. George Jennings and Ms. Beverly Sherman .and others too numerous to mention.
Relatives and friends may pay their respects at Cedar Crest Funeral Home, Robinson Road & First Street on Friday from 12:00 noon to 6:00p.m. and at the church on Saturday from 9:30 a.m. until to service time.