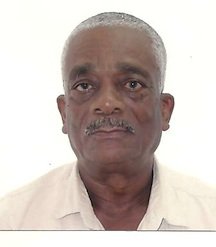 Leyland O'Connor Bradshaw
unknown - unknown
Full Military Service for Retired Assistant Superintendent of the Prison Mr. Leyland O'Connor Bradshaw age 83 years old of Cassia Close, Gleniston Gardens will be held on Saturday September 1st, 2012 at 10:30am at St. Anne's Anglican Church, Fox Hill Road. Officiating will be The Rev'd Fr. Hugh Bartlett, assisted by The Rt. Rev'd Gilbert Thompson and Canon John Clarke. Interment will follow in St. Anne's Cemetery, Fox Hill Road.
Left to cherish his memories is his devoted wife of Fifty-One (51) years: Lorna Bradshaw; son: Marcus Bradshaw; daughter: Paulette Brown; granddaughter: Simone Brown; brothers: George and Anthony Bradshaw of London; sisters: Corene and Audine Bradshaw of Canada; brother-in-law: Clive Byer of Barbados; sisters-in-law: Sybil Bradshaw of London, Sheba Bradshaw of Canada, Mary Waithe of Barbados; numerous nieces and nephews including: Magaret Cummings, Gercene Jarvis, Henderson, Bovell and David Bradshaw, Henry Haynes of London, John Haynes, Muriel Ramsey of Barbados; cousins: Patsy Martindale, Earl, Velma and Coral Walton; god daughter: Cheryl Reece of New York; other relatives and friends including: Frank and Pat Reid, Emerson and Gene Haynes, Colbert and Glory Conliffe and Family, Kenrick and Pat Murphy, Eustace and Hamutle Nicholls and Family, Harold and Joyce Cole, Ordean Gittens, Carlton and Gretchen Jones, Andy and Sonia Gill and Family, Carole Watson and Family, Hugh Sandiford, Gurney Armstrong and Family, Mr. and Mrs. Joseph Harris, Stephen and Myrtle Ford, Colin Puckering and Family, Millicent Deane and Family, Egbert Deane, Siobhan Deane and Family, Teddy Grazette, Frank and Angela Reid, Darnley and Alison Sealey, Clemont Foster and Family, Arthur and Dorothy Morris, Emma Allen, Kenneth
and Trudy Ward and Family, Bernard and Lucille Thompson, Marina Franks and Family, George and Irma Bain and Family, Myrtha and Jerry Guillaume and Family, Judith Theophilus, Marie Newbold and Family, Kenneth and Beverly Miller and Family, Mr. and Mrs. Percy Major and Family, the Gleniston Garden Helping Hand Club, Barbadian/Bahamian Association, Father Hugh Bartlett and Family, Canon John Clarke and Family, Father Crosley Walkine and Family, the entire Saint Anne's Parish Family and others too numerous to mention.
Viewing will be held in the Irenic Suite at Restview Memorial Mortuary and Crematorium Ltd., Robinson and Soldier Roads on Friday from 10:00 am to 6:00pm and again at the church on Saturday from 8:30am until service time.