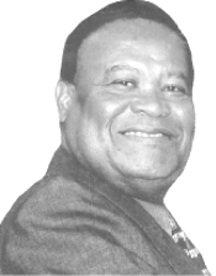 Leroy "Duke" Stephen Hanna
unknown - unknown
State Recognized Funeral Service for Dr. Leroy "Duke" Stephen Hanna, M.B.E., JP, 78 years of #27 Devonshire Street, will be held on Friday August 31st, 10:30 a.m. at Bethel Baptist Church, Meeting Street. Rev'd. Dr. Robert Colebrooke assisted by Pastor Timothy Stewart, Rev'd. Dr. Philip Rahming and Rev'd. Dr. James Shearer will officiate. Interment will follow in Lakeview Memorial Gardens, John F. Kennedy Drive.
Duke leaves behind his life partner, his soul mate and his loving wife, Joan. Together they have built villages, tilled much soil, sown many seeds, raised many, fed many, and cared for all. He is survived by three children: Margo Blackwell, Jeff Birch & Donna Cartwright; Grandchildren: Edison Moose, Danielle and Lauren Blackwell; Casey, Brian and Christian Birch; Kelvin Walker and Corderro Cartwright; Grandchildren-in-law: Cassandra Blackwell & Ayisha Walker; Great-grandchildren: Keleisha Walker, Keltirah Walker and Corina Cartwright, Ethan Blackwell & Samari Brown; Brothers: Johnny Rochester NY, Gordon, Michael, Cleveland, Harold, Riccardo, Sidney, Chris, Basil Davis; William Sweeting & Cleveland Hanna; Sisters: Esther Ferguson, Carmel Cancino, Dorothy D. Hinsey, Betty N. Davis, Betty S. Davis, Marina Davis, Kathyrn Jackson (Detroit), Deloris L. Davis (Webster, NY), Carolyn Bastian, Delores C. Humes, Mavis Johnson, Nicole D. Evans, Marva Davis, Melverne Collie & Ivy Sweeting; Brothers-in-law: Kirk Hinsey, Theodore Johnson, Washington Collie, Bernard Evans, James Jackson (Detroit), James McKinney & Paul Butler; Sisters-in-law: Ethlyn Davis, Glenda J. Davis (NY), Joyce Humes, Charlotte (NY), Brenda Bain, Marcuela Sweeting, Francena & Emerald Hanna; Numerous nieces, nephews and godchildren including: Esther and Alonza Dixon, Demarco Sweeting, Sherry Miller, Rashard Marc Armbrister, Paulette Butler, Paul Alexander Butler, Barbara Sweeting, Collingwood Sweeting, Bertram Sweeting Jr., Colleen Sweeting; Ricardo Davis Jr. Patrice Hanna, Javan and Cordero Sweeting, Leon, Hulan, Geoffrey and Leonard, Annabell, Velma, Patrice and Maria Hanna, Elvis, James, Berkley, Alton, Wayde, Gary, Troy, Sherlin, Andy and Adrian, Sharon Bowe, Beverley Kerr and Margel Smith; Renaldo Davis; Bernard and Britney Evans; Kirk, Ricardo and Jason Hunter, Glendina and Darryl Storr, Danny Lowe, Shantel and Verneka Rolle, Ronrick Simms & Mario Conliffe; Adopted sons: Percy Sweeting, Theophilus and Kirkwood Coakley, Gernie Fowler, Chris Fox & Trevor Rose; Adopted daughters: Clara Lowe; Eva Bullard, Janeen Russell, Carolyn Vogt Evans, Portia Nottage, Carolyn Grant & Tabitha Fowler; Adopted Family: Rosi and Helge Lovdal, Mona Birch, Alec Blackwell, Sandra Birch, Heidi, Robert, Kalin, and Nyall Cook Peter, Gabrielle, Cara, Ginger, Adam, Annie, Aaliyah Douglas, Scot, Estella, Teano, and Hiti Kurth, Krista, Evan, Andrew and William Kurth-Lippincott; Topher, Teva, and Tekoko Kurth, Marissa Russell, Joan Brown, Patty Birch, Sherry Blackwell, Marvin Brown, Raynaldo Russell, Isaac and Jackie Collie and family; Tom and Toni Bain and family. Many more family and friends including: Arlington Miller and Family; Marguerite Dame Pindling, Igrid Lady Darling, Neville and Manita Wisdom, Idell Smith, Rita Spriggs, Mella and Cardnel Rolle, Beverly and Clause Sobeich and family, Jessie Johnson, William Bell, George Mora, Katie Seiler, Ed and Andrea Smith, Janet Donnelly, Duke and Lilian Smith, Michael Hamilton, Vivian McPhee, William Nottage, Baron Coleby, Anthony Allens, George Moss, Beverly Bethell, Baron Ferguson, Milton Cox, Arlington Farquharson, Rudolph Gibson, Kenneth Herious, Beverly Kerr, Alphonso Darling, Ashlyn Miller, Eddie Cox, Rudolph, Tead and Terrance Higgs, Sidney Cunningham, Emerald Hanna, Eddie Cox, Ashton Miller, Jean DeVilas, Ray Munnings and Family, Patrice McDonald, Maggie Saunders and Family, Betty Cartwright and family, Francita Johnson and family, Rudolph Timer Coakley, Michael Reckley, Dr. Paul Ramphal, Dr. Chin-Chea, Nurses and Staff of Private Surgical, Princess Margaret Hospital, Pilot Club of Nassau, Jennifer Isaac Dotson, and Officers of and Member Unions of the NCTUB, Officers and Members of the Bahamas Musicians Union, Officers and Members of St. Paul's Baptist Church, Travellers' Rest family, Officers and Members of the Modern Free and Accepted Masons of the World Inc. and Eastern Stars, and numerous other person whose lives touched his and made his life worth living.
May he Rest in Peace.
Friends may pay their last respects at the Musicians Union Hall, Horse-Shoe Drive on Wednesday from 2:00 p.m. to 6:00 p.m.
The body of Mr. Hanna will lie in State in the Senate on Thursday from 12:00 noon to 5:00 p.m.
Please visit our website: www.bethelbrothersmorticians.com to share your memories and condolences with family and friends online