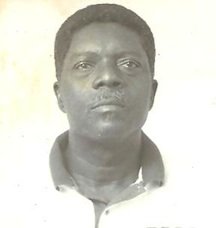 Leon Edison Miller
unknown - unknown
Funeral Service for Leon Edison Miller age 72 years old of Carmichael Road, West and formerly of Burnt Ground, Long Island will be held on Saturday September 1st, 2012 at 11:00am at Golden Gates Native Baptist Church, #2 Lobster Avenue, Golden Gates No.1. Officiating will be Pastor Alonzo A. Hinsey. Interment will follow in Woodlawn Gardens, Soldier Road.

Cherish memories will always remain in the hearts of his daughters: Rosita, Ingrid and Leotha Miller; son: Jamaal Miller; grandson: Omar McKinney; granddaughter: Brittney McKinney; sister: Helen Miller; brother: Cornelius "Neelie" Miller of Miller's, Long Island; nieces and nephews: Valencia and William Bodie, Dezerine and Kirk Smith, Nicole, Latoya and Kizzy Miller, Chiara and Quinton Anderson, Jeffery, Gregory, Dereck, Trevor, Ricardo, Nigel, Nicolas, Leslie and Lorenzo Miller and Kenardo Newry; aunts: Vera and Delphine Miller of West Palm Beach, Florida; Carrlemae, Corine and Eleanor Adderley and Olive McKenzie; sisters-in-law: Thelma and Caroline Miller and Judy; cousins: Pandora and Inell Adderley, Wellington and Sybilean Knowles, Neville, George, Charles, Alphonzo, Kendall, Reginald, Ezebiel (Big Zek) Alfred, Craven, Sheila, Shirley, Azeil Charles, Joseph, Lionell, Deborah, Margaret, Nadia, Corese, Roosevelt, Vivian, Ingrid, Marion, Mavis, Laverne, Livingstone, Judy Gladstone, Sherry, Craig, Paul, Michael, Melonie, Denise, Stacey, Michael and Deanne Huyler, Dwight and Joyce Gilbert, Berkley Johnson, Marcell Brown, Paul Miller, Tanya, Jonell El Pacco, Kendora, Wendy, Jacqueline, Simeon, Arthur, Kareema, Patrice, Don, Ronnie, Natasha, Conchita, Dwevin, Wellington and Eloise Sherman and family, Loretta and Phyllis and family, Joan and family, Rudell and Preston Richie, Kirk Seymour and family, Sybil and Stanley Pinder and family, Ural Pratt and family, Father Ernest Pratt and family, Hubert and Theresa Miller and family, Scottfield and family, Willard Miller and family, Dolly Rahming and family, Lashandy and family, Patrick, Gayle, Gary and Gina Taylor and family, Uncle Jimmy, Malinko, Chris, Lee, Par and Leon; other relatives and friends including Rev. Dr. Alonzo A. Hinsey, Rev. Enoch Beckford Jr., Mr. Luc Ermma and family, Mr. David Albert and family, Teddy Symonette and family, the children of the late John and Eliza Miller, the children of the late Charlee and Irene Miller, the children of the late George and Myrtis Beckford and family, the officers and members of Golden Gates Native Baptist Church and the entire community of Miller's and Burnt Ground, Long Island.

Viewing will be held in the Irenic Suite at Restview Memorial Mortuary and Crematorium Ltd., Robinson and Soldier Roads on Friday from 10:00am to 6:00pm and at the church on Saturday from 9:30am until service time.