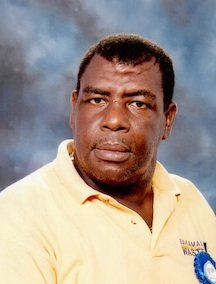 Kirkland "Kirky" Stephen Symonette
unknown - unknown
Funeral Service for Kirkland "Kirky" Stephen Symonette, 50, a resident of Key West street will be held Saturday 1st September 2012, 11:00 a.m. at Metropolitan Church of the Nazarene, East Street and Bahama Avenue.. Officiating will be Pastor Nelson Pierre assisted by Rev Dr Antoine St Louis and Rev C.A.Dorsette. Interment will be made in Southern Cemetery, Cowpen and Spiknard Roads.
Kirky's fond memories will forever be treasured by his loving and devoted wife: Micheline Symonette 5 Daughters Shelly, Janette, Karen, Renea, and Tracey Symonette. 1 Grand Daughter: Kennisha Petitrere, Mother: Ethelyn Mortimer Sisters: Shenna Mortimer and Stephanie White of Orlando Florida, Darlene McKenzie Brothers: Lloyd Mortimer of Atlanta, Kelvin Symonette, Sgt 1484 Kenneth Symonette, Kelson Mortimer, Willis Symonette and 1790 Sgt. Glenwith Russell Sister in Laws: Sandra Mortimer, Teresa Symonette, Paulette Russell, Luna Louis, Geta' Michelet, Marcline Gefford, Maxine Oscar Brother in Laws: Eric Michelet Ilky, Elvy, Julien, Lafrance, Fred, Hedley Noel Unbon' Louis, Pradel Geffard 15 Nieces & 16 Nephews 5 Grand Nieces & 6 Grand Nephews. Aunts: Arlene Ching, Rebecca Bain, Pearlimae Mortimer and Virginia Mortimer. Mother in Law: Jancilla Ann Noel, 6 God Children, 2 Expecting Son in Laws: Andrew Solomon and Junior Eugene. Other Relatives and Friends including: Enrique Alicme, Daphney François & Family, Pratt, Mortimer, Joseph and Brown Families, Vilanda Ellis, Sandra Roberts & Family of Minnie Street, Cox Family of Minnie Street, Shirley & Carolyn & 6th Street Family, Kimberley Miller & Key West Street Family, Florida Louise & Family, Sandra Rolle & Family, Marlene Joseph & Family, Jean Ronel Cira & Family Dorzilla Luban & Family, Marcel & Family, Insp. Deborah Mc.Clure & Family, Maxone Dor & Family, Antoinette Joseph & Family, Achara Rahming & Family, Staffs of Palm Tree Supermarket, Bahamas Waste, Impact Waste, PMH Private Medical, Laundry and Cafeteria.and others too numerous to mention.
Relatives and friends may pay their respects at Cedar Crest Funeral Home, Robinson Road & First Street on Friday from 12:00 noon to 6:00p.m. and at the church on Saturday from 9:30 a.m. until to service time.