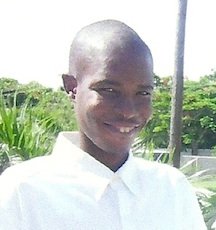 Howard Harcourt Bowles
unknown - unknown
Funeral service for Howard Harcourt Bowles, age 23 of Burnt Ground, Long Island, will be held at the Church of God of Prophecy Balliou Hill Road, on Saturday 1st September, 2012 at 11:00a.m. Bishop George Thompson, assisted by other Ministers of the Gospel will officiate and interment will follow in the Southern Cemetery, Cowpen and Spikenard Roads.
Howard was pre-deceased by his mother: Elizabeth Bowles, and siblings Neval Jr, Howard and Kevin Bowles. Left to cherish his memories are his father: Neval Bowles Sr. Sister: Shirleymae Bowles, Brothers: Dennis, Wellington, and Patrick Bowles. Grandparents: Pastor Garnet and Mary Rolle. Aunts: Rosemary Brice, Esthermae Knowles, Eloise Emile, Detective Corporal 273 Annamae Rolle, Patrice, Shauny, Agatha, Linda, and Dian Rolle, and Elizabeth Gibson-Rolle. Uncles: P/C 2910 Timothy Andrew, Jeffrey, Ezekial, Daniel, Timothy, Donald, and Leon Rolle. Clinton Brice, Marcian Emile, Randolph Knowles, Richard and Nelson Bowles. Numerous other relatives and friends including: Bishop George Thompson & Family, Cecil Bethel Agnes Francis, George Miller, Nurse Stubbs, The Adderley Family, Pastor Pearline Cartwright, The Lightbourne Family, The staff of National Insurance and Social Services, The Church of God of Prophecy Burnt Ground Long Island, The staff of the Community Clinic in Simms Long Island, and other friends too numerous to mention.
Viewing will be held in the Legacy Suite at Vaughn O. Jones Memorial Center, Mt. Royal Ave. & Talbot Street on Friday from 10:00 a.m. to 6:00 p.m. and at the church on Saturday from 10:00 a.m. until service time.