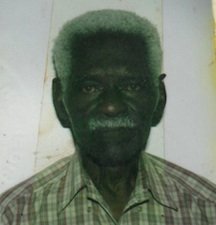 HERMIS ADDERLEY
unknown - unknown
Funeral Service for HERMIS ADDERLEY aged 76 years of Williams Lane, Kemp Road who died on Friday, August 10th, 2012 will be held on Saturday, September 1st, at 11:00am at New Lively Hope Baptist Church, Chesapeake Road & Jerome Avenue. Officiating will be Rev. Dr. Sheldon Higgs, Rev. James Pennerman and Minister Julian Anderson assisted by other Ministers of the Gospel. Interment will follow in the Southern Cemetery, Cowpen and Spikenard Roads.
He is survived by his Wife: Hazel Adderley; Daughters: Monique Hutchinson, Clothida & Bethsheba Adderley, Agnes Mashienell Adderley-Jolly, Rosetta Bain, Donnell Brown, Patricia Morley, Cathy Grey, Quinserlia Duncombe & Theresa Adderley (Daughter-in-law) ; Sons: Alvin Adderley, Andrew Winder, Kendal, Livingston & Sterling Adderley; Son-in-law: Corporal 1992 Henry Bain; Grandchildren: Aaliha Adderley, Thervesa Burrows, Alexis Adderley, Alexander & Dantley Jolly, Krystal Deveaux, Ashley Adderley, Dontrell & Durell Gray, Jonetle, Azeria & Justin Brown, Jarnell, Ashnique, Preston, Clarence Smith, Micheal Bowe, Richard & Aclisha, Kelson, Brandon, Breon & Berenthia Smith, Tyrone & Larando Sweeting, Ricardo & Rakeita Bain; Numerous Grand and Great-grandchildren; Other relatives and friends: Beryl, the Winder family and the entire Kemp Road, especially Williams Lane & Great Harbour Cay communities.
Viewing will be held at Clarke's Funeral Home #10 Tonique Williams-Darling Highway on Friday, August 31st, from 10:00am to 6:00pm and on Saturday from 10:00am at the church until service time.