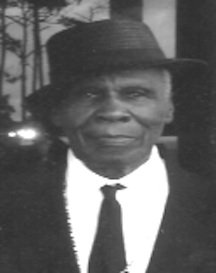 Ernal Swain
unknown - unknown
Funeral Service For Ernal G. Swain, 86, of Murphy Town, Abaco will be held on Saturday September 1st, 2012 at 11:00 am at Bethany Gospel Chapel, Murphy Town, Abaco. Officiating will be Brother Junior Williams assisted by other ministers. Interment will follow in the Murphy Town Public Cemetery, Murphy Town, Abaco.
Left to cherish his memories are his wife: Enamae, three sons: Barry, Ted and Bradley; one daughter: Vernita; six grandchildren: Lakeisha, Luneka, Rashon, Tacashanae, Barrino and Makemo; one great grandson: Lawson; three daughters-in-law: Sarah, Shandell and Veronique; two adopted daughters: Deborah Miller and Pandora Bethel; nieces: Marilyn, Ada, Margaret, Beverley, Lucy, Prescola, Grace, Greannae, Janet, Nicole, Grethal, Agatha and Veronica; nephews: Calvin, Horace, Vincent, Roland, Nelson, Haziel, Mervin, Elgie, Erskin, Beltram, Edward, George, Arthur, Jexel, Senior, Elvis, Berkley and Amon; numerous grand nieces and nephews: Magrette, Monique, Mispah, Pleasant, Rowena, Bernadette, Melissa, John, Hewitt, Cleo, Tyrone and Lemuel; three step grand children: Luneka, Meko and Tray; other family and friends: Kermit, Renardo Curry and family, Wilamae Dawkins and family, Carly, Emmit, Hilly, Lester, Johnathan, Rocklyn, Minalee and family, Cardinal, Prince, Hank, Terrance, Gwendolyn, Ruth, Norma, Wently and family, Edith Clarke, Carl Ferguson and family, William Swain and family, Ismae Dawkins and family, Emaline Butler, Olive Miller and Family, Douglas McDonald and family, Aramena Smith and family, Mary Swain, Ida Swain, Deidre Smith, Larry Saunders, Paul Mills, Winifred Mitchell and family, Pandora Bethel and family, Victoria Gibson and family, Muriel Curry-Richardson, Catherine Davis and family, Dolly Davis and family, Johnny Swain and family, Coley Swain and family, Shelia Simms and family, Jimmy Williams and family, The church family of Bethany Gospel Chapel, Zion Baptist, Strong Tower Community Church, Victory Tabernacle and the entire communities of Murphy Town, Dundas Town and Sweetings Cay.
Viewing will be held at Everlasting View Funeral Home, Marsh Harbour, Abaco on Friday from 11:00am – 5:00 p.m. and on Saturday at the church from 10:00 a.m. until service time.