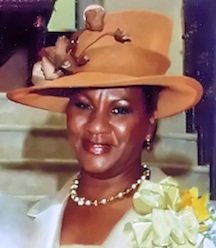 Elizabeth Betty Bethell-Thomas
unknown - unknown
Amethyst Funeral Notice For Mrs. Elizabeth Betty Bethell-Thomas age 59 years of Second Street, Coconut Grove will be held on Thursday, August 30, 2012 at 11am at The Church of God of Prophecy, Blue Hill Road, opposite National Insurance. Bishop Anthony T. Roker, assisted by other Ministers will officiate and burial will be in Lakeview Memorial Gardens & Mausoleums, John F. Kennedy Drive & Gladstone Road.
The Radiance of this "Amethyst of A Gem" will always glow in the hearts of her:
Husband: Carlton Alphonso Thomas Sr.;
Children: Darren Reece, Nadia and Keifer Strachan Sr.;
Grandchildren: Darian and Darria Reece, Anthonicia O'Brien, Keoshia, Garrenique, Keiniya and Keifer Strachan Jr.;
Daughter-in-law: Judith Reece;
Adopted Daughter: Tasha Cooper;
Sisters: Remelda Johnson, Evangelyn Minnis and Jacqueline Bethell-Carey;
Brothers: Rev. Dr. Peter A. Grist and Philip Bethell;
Mother-in-law: Gladys Sawyer;
Brothers-in-law: Wilfred Minnis, Sr. and Kenneth Carey, Sr.;
Sisters-in-law: Gloria Bethell, Sally Grist, Lorraine and Marion Bethell;
Aunts: Ruth Stuart and Winnie Carey;
Adopted Aunt: Miriam Symonette;
Adopted Sisters: Rowena Albury, Janet Johnson-Munnings and Frances Thomas;
Two Step Sons: Carlton A. Jr. and Trimaine Thomas;
Step Sister: Virginia Johnson;
Nieces: Valerine and Natasha Johnson, Shantel McDonald, Tammy Miller (Valerio), Monique Minnis-Edwards, Viola Knowles, Stephanie Heastie, Sophia Higgs, Sparkle, Deborah and Crystal Bethell, Karen Kitchen and Angelique McKinney;
Adopted Nieces: Shantel and Georgette Johnson, Nora and Gina Albury, Judith Lightbourn and Margaret Bethel;
Step Niece: Jamie Johnson;
Nephews: Bertram and Patrick Johnson, Michael (Sheryl), Cyril (Stacy) and Pastor Ivan Carey (Donnell), Wilfred Minnis, Jr., (Rosalie) Trevor, Kenny and Bradley Farrington, Valentino, Cyril, Andy, Chuck, Tony and Niles Bethell,
Adopted Nephews: Paul Maynard, James and Preston Albury and Aaron Munnings;
Other Loving Family and Friends Including: Sharlene, Wayne and Herbert Strachan, Kevie Smith, Debbie Culmer, Joe and Angerine Curtis, Pablo, Monique and Perry Knowles, Jr., Dellarese Bowe, Phyllis of Ocala, Florida and Jeffrey Reece of New York, Sherell Reece-Distant of New York, J. Henry QC and Janet Bostwick, Elaine Wilson, Angeline Turnquest, Michael A. J. Symonette and Joseph Symonette, Wilfred Bethell, Nurse Mavis Campbell, Thomas and Eleanor Mackey, Edith Roache, Jacqueline Barry, Rosemary Estinril, Shirley Storr and their families, The Bethell, Carey, Minnis, Cumberbatch, Heastie, Lotmore, Stuart, Turnquest, Gibson, Culmer, Ferguson and Sherman families.
Special Thanks To: John K F Delaney QC and Staff of Delaney Partners, Staff of the Princess Margaret Hospital especially, Medical Records and Female Medical I, Tina Knowles and Staff of Chelsea's Choice, Pastor, Officers and members of The New Annex Baptist Cathedral.
Visitation will be at The Church of God of Prophecy, Blue Hill Road on Thursday, August 30, 2012 from 10am to service time.
Visit Our Website: www.emeraldridgemortuary.com view video tributes, sign guest book and send condolence, sympathy, share memories and make funeral arrangements.