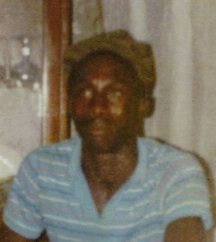 Edwin Ferguson
unknown - unknown
A Memorial Service for Edwin Ferguson age 54 affectionately called "Lawd Lawd" of Lewis Street, who died August 16th will be held on Saturday 10:00 a.m. at Christian Gospel Chapel Flint Street off East Street. Pastor Dwayne Wright will officiate.
Cherished memories are held by:
His father: Kenneth Ferguson
Four sisters: Patricia Saunders. Theresa Simms of Cooper's Town Abaco, Michelle Johnson and Sherelle Morris
Nine nieces: Sh'ron Saunders, Nerissa Greene, Miranda Greene, Monique Shavette Rolle, Natasha Poitier, Shekera Simms, Randell, Randera, Ranell and Randisha Johnson, Joenel Morris
Four nephews: Dominic Fawkes, Lajuan Simms, Demeko Simms and Joel Morris Jr.
Six aunts: Catherine Hinsey, Massie and Howard Moss, Vanria Anderson, Pastor Brenda Archer of Dundas Town Abaco, William and Laura Albury of Eleuthera, Estella Deveaux and Fredricka Stuart
Six uncles: Nat Saunders, Alvin Saunders, Tyrone, Jeffery Anderson, Sidney Deveaux and Apostle Alex Archer of Dundas Town Abaco
Three brothers-in-law: Pastor Jackie Simms of Cooper's Town Abaco, Randford Johnson of the Royal Bahamas Defence Force and Joel Morris
Other relatives and friends include: Dr. Julian Stewart, the Campbell family, the Sands family, Carol Johnson and family, Camille Bastian, Super Wash East Street and Soldier Road families, the Lewis Street family, the Morris family, Ambrose(Conch Man) and Lil General family, Evelyn, Staff of Solomon Mines , Pastor Dwayne Wright and family and others too numerous to mention.
Arrangements are being handled by THE CHAPEL OF MEMORIES COMMONWEALTH FUNERAL HOME INDEPENDENCE DRIVE.