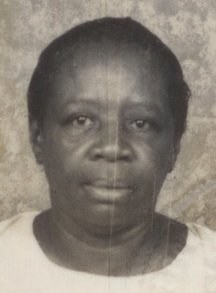 Agatha Gibson Marshall
unknown - unknown
Funeral Service for Agatha Gibson Marshall, 78, of Podoleo Street and Cordeaux Avenue, and formerly of Savannah Sound, Eleuthera, will be held on Saturday September 1st, 10:00 a.m. at Our Lady of the Holy Souls Catholic Church, Deveaux Street. Monsignor Simeon Roberts assisted by Deacons Maxwell Johnson and Peter Rahming will officiate. Interment will follow in Ebenezer Methodist Church Cemetery, Shirley Street.
She is survived by her Children: William Jr. and Michael Marshall; Grandchildren: Shenique Wright, Jessie Campbell and Katika Dawkins; Grandsons-in-law: Nathan Campbell Sr., Trevor Wright Sr. and Nathan Campbell; Great-grandchildren; Jaquan, Trevor Jr., Sienna and Shiloh Wright, Jesse Campbell and Nathan Campbell Jr.; Sister: Retired Nurse Virginia Gibson-Bullard; Brothers: George Wellington and Joseph Anthony Gibson; Nieces: Rhoda Gibson-Stamp, Sonja Gibson and Janine Gibson; Niece-In-Law: Dr. Chinyere Carey-Bullard; Nephews: Charles and Cordell Bullard, Dr. Colin Bullard, Dr. Jamil Gibson and Andrea Gibson; Grand Nieces: Mia Bullard and Virginia Stamp; Grand Nephew: Colin Bullard Jr.; Sisters-In-Law: Barbara and Melva Marshall, Dorothy Smith-Lopez, Elizabeth and Lynda Gibson; Brothers-In-Law: Hasting and Lionel Marshall; Friends and Family: The Gibson Family Reunion Committee, the Community if Savannah Sound Eleuthera, the Bullard, Clarke, Thompson, Sands, Culmer, Hilton, Sawyer, Benson Francis and Tucker Families, Rosaline, Myrtle, Ethel Sands and their Families, Agatha Brown, Beryl, Laurie, Brother-In-Law (Grant), Gippy, Pearl Culmer, the Wells Family, Hon. Perry G. Christie, Prime Minister of the Commonwealth of the Bahamas, Anita Bernard and the Wilchcombes of Oakes Field, Liz Goings, the Pratt Family, Antoinette Outten and Family, Anthony and Simone Outten and Family, Andrew and Gail Moncur and Family, Paul Smith, Luella Bowe and the entire Farrington Road family, Father Badhu and the Epiphany Anglican Church Family, St. Matthew's Church family, Evangelistic Temple Family, Bishop Solomon Humes and the entire Church of God of Minnie Street Family, the Francis and Turnquest families, and the Fortfin Castle (the Fort Hill) family, the communities of Fleming Street, John Road, John Street, Windsor and Deveaux Streets.
Friends may pay their last respects at Bethel Brothers Morticians, #34A Nassau Street on Friday from 10:00 a.m. to 6:00 p.m. and on Saturday at the church from 10:00 a.m. until service time.
Please visit our website: www.bethelbrothersmorticians.com to share your memories and condolences with family and friends online.