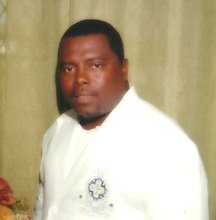 Leonard Alexander Cornish
unknown - unknown
Funeral Service for Leonard Alexander Cornish affectionately called "Bailor" age 38 years old of Pigeon Plum Street, Pinewood Gardens and formerly of Blackwood, Abaco will be held on Saturday September 1st, 2012 at 11:00am at Full Gospel Assemblies, Treasure Cay, Abaco. Officiating will be Pastor Simpson McKinney. Interment will follow in Blackwood Public Cemetery, Abaco.
Left to cherish his fond memories are his loving long time companion: Rosemary Farrington; children: Leonard Jr., Lenique, Diana, Christopher and Denell; grandchildren: Damiya, Ciana, Destiny and Damaggio; adopted sons: Lonnie Cornish, David Williams, Ricardo Davis, Effie Edgecombe and Stanly McIntosh; sisters: Carolyn Pedican, Fayann and Sandramae Cornish, Sheila Williams, Portia Cornish Russell, Alvair Johnson and Sanifa Knowles; brothers: Roy, Washington, Jason and Derrick Cornish; adopted sisters: Louise, Linda and Shavonne McIntosh, Shanita Wallace; sisters-in-law: Damita, Dellerease, Kenisha and Tonelle Cornish, Renay Coakley, Mordell, Mertis, Melbra, Robertha, Yvonne and Rita Farrington; brothers-in-law: Selkirk Pedican, John Albury, Alexander Williams, Edwin Steven, Fritzgerald, Andy, Reynold Henry Jr., Curtis Bruno and Mondez; in-laws: Marilyn Knowles and Henry Farrington; aunts: Geleta Reckley, Elvera and Rosamae McIntosh, Vivian Cornish; uncles: Benjamin Cornish, Lavern and Leo Reckley; grandaunts: Natalie Bodie, Olga Smith, Flora Lowe, Gertrude Dawkins, Maxcine and Heneretta Griffin, Mary Whyll, Susiemae Longley, Eureka Bowleg, Lynn Reckley, Cleota and Lenora Sawyer; granduncles: Alexander Reckley, Estin Sawyer; uncles-in-law: Dervitt Mills, Emmanuel Williams, Edward Rolle, Ordenelle McIntosh, Harry Shaddy and Obediah Griffin; god children: Deshan Haward, Darell Riley and Daylin Cornish; numerous nieces and nephews including: T'Shura, Kaywaan, Kay-Wanya, Kelfaneko, Leante, Faynecia, Garanette, Tvana, T'Vara, Whitney Fayann, Stacey, Destiny, Patricia, Phillip Jr., Pedro, Santino, Crystal, Micheal Jr., Aalijah, Trevor Jr., Jamal Jr., Jahiem, Javaughn, Delroy, Rickero, Daylin, Daroyn, Taran, Daija, Derrinique, Daniel, Damarria,
Kenadee, Iesha, Santonio, Darren, Quashan, Dashawn, Charmile and Tenisha; other relatives and friends including: The Honourable Hubert Alexander Ingraham and Family, Mike Keaton, Margaret Riley and Family, Jacqueline Miller and Family, Vanessa Farrington and Family, Carol Cunningham and Family, Monique Albury and Family, The College of the Bahamas Family, Jose Cartellone Family, Edd Walker, Deon Brown and Family, Keith Brown and Family, Regetta and Sailing Association, Lemark and Family, Vernie Smith and Family, Vera Pritchard and Family, Nigel Bootle and Family, Eucliel Baillou and Family, Jacob Cornish and Family, Tom Lighbourn and Family, Effie Edgecombe and Family, Bernelle, Chubbie Williams and Family, Abaco Softball Association, Doctors and Staff of Male Medical 1, Jonathan Reckley and Family, Valderine Adderly and Family, Iva Duncombe and Family, Eddison Butler and Family, Bootle, Curry, Reckley, McIntosh, Lavarity, Adams, Cornish, and Longley Families, South Beach Union Baptist Church Family, Holy Saviour Anglican Church Family, Kevin Swaby and Family and others too numerous to mention.
Viewing will be held in the Serenity Suite at Restview Memorial Mortuary and Crematorium Ltd., Robinson and Soldier Roads, on Thursday (TODAY) from 10:00am to 6:00pm and again on Friday at the church in Blackwood Abaco from 6:00pm until service time on Saturday.