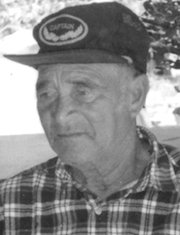 William ""Mr. Willie"" Cox
unknown - unknown
Funeral Service for William "Mr. Willie" Cox, 94, of East Avenue Millar's Heights and formerly of Sandy Point Abaco, who died August 3rd, at the Princess Margaret Hospital, will be held on Saturday 1:00 p.m. at St. Martin's Anglican Church Sandy Point Abaco. Rev. Willish Johnson will officiate and interment will follow in the Public Cemetery Sandy Point Abaco.
Predeceased by: His wife: Clara Bel Burrows-Cox
Daughter: Elizabeth P. Taylor
Left to cherish his memories are:
His children: Vivian C. Reckley and Petty Officer Glen A. Cox of The Royal Bahamas Defence Force
Adopted children: Elizabeth Russell, Matlind Bain, Vincent Ingraham, Eula Gaitor, Sandra Knowles and Carla Nixon
Grand-children: Roderick and Ralph Reckley Jr., Robert and Prince Taylor, Claudine Roberts, Clara Taylor, Rose Fawkes, Crystal, Lamysha, Montana and Yanina Cox, Takera Pratt, Tamara Darville, Asharkie Parrella, Vindeanna and Vindette, Julian, Jacinta and Bonji, Carlos and Alex
Great grand-children; Alex, Angelina and Angel Reckley, Michael Humes, Rose, Edwina and Rosann Roberts, Trinity and Prince Taylor Jr., Rodwin and Raven Fawkes, Vonya Darville, Christen, Keden and Morgan, Tristan Gaitor and Montanna 6
Great great grand child: Michael Humes Jr.
Nieces; Lenenza, Monica, Valarie, Deborah, Cathy, Betty, Patrice, Marge, Beaulah, Melanie, Frances, Marsha and Bonnie,
Nephews: Benjamin, Donald, Simmion, Ezra, Burnis, Lloyd, Richie, Doral, Lorenzo, Floyd, Clifford, Ernest and Doral
Sons-in-law: Ralph Reckley, Alfred Knowles, Attorney Vann Gaitor, Shawn Nixon and Edwin Taylor(222)
Daughter-in-law: Dena Ingraham
Grand sons-in-law: Ross Roberts and Rodrique Fawkes
Grand daughter-in-law: Marina Reckley
Other relatives include: Cyril, Audric, Prescola, Nillie, Enid, Lutel, Graylon, Percy, Mancer, Chris, Mervin, Brenda, Val, Betty and May
Special thanks and appreciation to: Nurse Estelle Pinder, Community Nurse Nioshi Colebrooke, Lillian and Duke Smith, Muriel Burrows, Dolly and Edward Pinder, Shirley Saunders, Frances Pinder, Shenique Bain, Loretta Taylor, Shayvona, Jenny Hinsey, Mockery Dames, Father Earl Hepburn, Mickey Roberts, Mercy Adderley, Leona and David Greene, Lucille Walker, Norris Bain, Frances Fox and the Russell family
Thanks to: the communities of Sandy Point, Crossing Rocks and Crown Haven Abaco.
Relatives and friends may pay their last respects at THE CHAPEL OF MEMORIES COMMONWEALTH FUNERAL HOME INDEPENDENCE DRIVE on Thursday from 3:00-7:30 p.m. and at the church in Sandy Point on Friday from 6:30 p.m. to service time on Saturday.