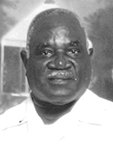 William ""Oh Happy Day"" Edward Bodie Sr.
unknown - unknown
Funeral service for William Edward "Oh Happy Day" Bodie Sr., 68, of Cedar Way, who died on 13th August, 2012, will be held at Zion Baptist Church, East & Shirley Streets, on Saturday at 10:00 a.m. Officiating will be Rev. T. G. Morrison, assisted by Rev. Dr. Carolyn Rolle, other Associate Ministers, Deacons & Evangelists. Interment follows in Woodlawn Gardens, Soldier Road.
Left to cherish his memory
are his wife: Maybell Bodie; 2 sons: James & William Jr.; 5 daughters: Michelle, Jennifer, Renea, Kaylesa Bodie and Themeia Sands; 2 daughters-in-law: Valencia & Beatrice Bodie; 17 Grandchildren: Travis Smith, Stephen Plackaris, Christian Strachan, William Bodie III, Tre'Vaughn Bodie, Kaleb Barnett, Verron Clarke, Te'Vion Lloyd, Vandero Bodie, Jasheed Strachan, Jaamal, Reniqua Bowe, Tiarra Bodie, Reanna Bowe, Malani, Laila Bodie & Kiarra Bodie; 2 great grandchildren: Aminha Longley & Taj-Adean Smith; 8 brothers: George, Prince Jr., Alton, Jerry, Tommy, Lawerence, Robert & David Bodie; 4 sisters: Ethelene Bodie, Gwendolyn Bodie-Green, Nicole Stanford & Nathalie Rosario; 3 aunts: Lucille Williamson, Merciana & Rosetta Bodie; in-laws: Dianne, Charlie, Kim Bodie; Olean Bizzard, Jacob Higgins, Huel Williamson, Vernita Ellis; nieces and nephews: Yulinda Delaney, Rosemae Stubbs, Jason Bodie, Betsy Sturrup, Phillip Sturrup, Terrance Daxon, Kelson Sturrup, Kevin Rolle, Duane Williamson, Chadwick Williamson, Bernadette Williamson, Donna, Dwight, Dwayne, Marilyn, Nachie & Darnell Higgins; other relatives & friends: Ulrick Bowe, Vernon Clarke, Reggie & Lillian Charlton, Vernitta & Sophie McKinney, Taminicka & Dave Munroe, Inger Austin, Veronique, Kent, Charlene, Anaiah, Sharon, Kaymala, Kaiwana, Franklin, Refshinko, Elizabeth, Carlton, Ornell, Michael, Eusais, Louise, Esther, Ernestine, Gwendolyn & Marilyn, Olga, Janet, Dorothy, Andrea, Charlene, Renee, Margot, Cheryl, Barry, Craig, George, Careen, Junior, Beverly, Patricia, Dexter, Dianne, Juliann, Corradell, Prince & Kim, Maggie Greene, Magnolia Deveaux, Suzanne Clarke, The Exuma Sailing Association, Ministry of Public Works Family, and many others too numerous to mention.
Friends may pay their last respects at Demeritte's Funeral Home, Market Street, from 10-6:00 p.m. on Friday & on Saturday at teh church from 9:00 a.m. until service time.