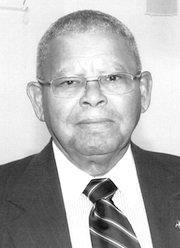 Uriah Jonathan Cartwright Sr.
unknown - unknown
Funeral Service for, Uriah Jonathan Cartwright Sr., 77, of Buttonwood Drive, Imperial Park, formerly of Rose's Long Island, will be held on Saturday, August 25th , 2012 at 2:00 p.m., at St. Barnabas Anglican Church, Baillou Hill and Wulff Roads. Officiating will be Rev. Canon Basil L. Tynes, and the Rt. Rev. Gilbert A. Thompson. Interment will follow in St. Anne's Cemetery, Fox Hill Road.
Left to cherish his memory are: his daughter: Janice; his sons: Uriah Jr. Terrence and Dwayne; brother: Ezra Cartwright; sisters: Arnette Major and Ree Bourne; granddaughters: Krystal , Leah, Alexis, Karan and Devinn; grandsons: Jonathan, Kevin Jason, Zachary, Terron , Terrence Jr., Tristan, Geovanni, Uriah III, Henderson, Tedros, Teshaz, Shaphan, Teshon and Tyrus; great-grand children: Skyy, Leilani, London, Gabrielle, Samiya, Tatianna Dwayne II, Kahia, Teshaz Jr., Shavon, Teshon Jr., Shona, Nadjah, Teshna and Micaiah; daughter-in-law: Harriette Cartwright; brothers-in-law: Daniel Major and Dr. Eric Bourne; nieces and grand nieces: Yvette, Brittney and Danielle Plakaris, Linda and Tyra Thompson, Aretha, Imani and Sage Graham, Tanya Grubbs, Erica Pierre and Dr. Caryl Bourne; nephews and grand nephews: Rodney Cartwright, Tyrone and Tyler Thompson, De-Armas Graham, Tony, Tony Jr., and Noah Grubbs, Dayan Bourne and Roger Pierre; numerous other relatives and friends including: Katrina Cartwright, Agatha Richardson and children, Carl Knowles, Otis and Hillary Knowles, Leonard Darville, Lockhart and Sylvia Darville, Lillian Darville and family, Shirley and Fr. Addison Turquest and family, Patranella and Edison Deleveaux, Erskine Darville Jr. Jean Knowles, Ethel and James Wright, Adline and Maxwell Knowles, Joan Eldron, Marguerita Kelly, Roderick and Veronica Pratt, Winifred Mallory, Alphonse McKenzie, Nyochee Patton, Euwonka Saunders, Verilyn McKinney-Knowles, Marsha McKenzie, Melanie and Frank Bain, Drexel Maycock, Lamantha Maycock, Veronica Sherman, Reginald and Yvonne Moncur, Andrew (Ramadan) McKenzie, Nicholette Bethel-Knowles, David Rolle (Bmini),Andre Maynard, Prince Hall Freemasonry Brothers, McDonald's Breakfast Club Members and VG's Lunch Bunch Members.
There will be no viewing.
Friends are welcome to sign the register book at Butlers' Funeral Homes & Crematorium, Ernest and York Streets on Friday August 24, 2012 from 1:00 p.m. to 4:30 p.m. and at the church on Saturday from 1:00 p.m. until service time.