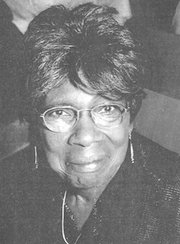 Sylvia Elaine Elliott Ross
unknown - unknown
Funeral service for Sylvia Elaine Elliott Ross, 80, of Circular Road, Murphyville & formerly of Stanyard Creek, Andros, who died on 12th August, 2012, will be held at Our Lady's Roman Catholic Church, Deveaux Street, on Friday at 11:00 a.m. Officiating will be Monsignor Simeon Roberts, assisted by Monsignor John T. Johnson, Fr. David Cooper & Deacon Peter Rahming. Interment follows in Western Cemetery, Nassau Street.
Left to continue the legacy & remember the good times of our lives with her are:
Daughter: Leonardette Ross-King (Daniel) children: Christina, Devereaux and Amadi
Adopted Daughter: Dona Maycock: child: Paige
Sons: Leonard Ross jr. (Lana) children: Renaldo, Lavert, Khalid,and Belle; Lendrex: children: Jermaine, Jamal, Crystal, Johnathan and Lenico; Lenroy.
Great grand children: Raven Ross, Kylee Hanna, Christae King and Leni Jackson
Sisters: Sandra Marie Elliott Coleman, Patricia Elliott Horseford, Mabel Elliott Moultrie, Norma Elliott
Brother: Alfred Elliott
Sisters-in-law: Marylee Elliott, Cynthia Nairn, Mavis and Jeannie Holbert
Brothers-in-law: Cecil Thompson, Lee Moultrie
Aunts: Maria Forbes, Katerina Rutherford
Uncle: Earnest Rutherford
Nieces: Nurse Norma Cox, Mabel and Linda Sears, Alfreda Sears, Rachel Munson, Antoinette Burrows, Sonia McPhee, Caron Massey, Linda Jones, Melony Roberts, Debbie Williams, Dena and Dudley Smith, Denise Rolle, Gregory and Paulette Huyler, Denise Forbes, Keela Malone
Nephews: Alphonso Elliott, Oswald Brown, Carrington Munson, Joshua Burrows, Christopher Horsford, Tahan Elliott
Grand Nieces: Taylor Munson, Lakeisha Lewis, Lithera and Hollina Sears, Johneisha Ferguson, Karen Cox-Rolle, D'Coya Cox, Kenya King, , Garbriel and Kiandra Green, Krezia and Duane Rolle, Marishan and Jade Burrows
Grand Nephews: Dwight Brown, Ian Cox; Cousins: Marina Smith, Delores Mounts, Jack Davis, Wlillard and Genieva Rutherford, Dr. Keino Rutherford of Los Angeles, Bradley and Bernardette Rutherford, Cheryl and Nhomsha Gibson, Mark and Edith Bethel, Ian Bethel, Mathew Brennan, Maria Ann Johnson, Margaret Inniss, Peggy Culmer, Sandra Gibbons, Therese Thompson, Dr. Marcella and Cynthia Elliott, Sgt. Joseph, Gerard, Lawrence, Terrence Elliott, Bruce, George, Norbert, Jerome and Martin Elliott, Verona Missick, Lorna Robinson, Nicola Elliott. The Families of Astrid and Vernice Davis, Margaret Claridge, Evelyn Winder, Reginald Carey, Louis Hanchell, Elenor Weech, Mrs. Anette Poitier, Samuel, Bernard, Samuel Jr, Fran and Kermit Rahming, Lee and Bruno Potier, Rhonda and Warren Rolle, Francis Richardson, Delores Nottage, Ruben and Maud Hamilton, The Samaritan Ministry of the Catholic Archdiocese of T he Bahamas, Our Lady's faith community, Ladies Auxiliary and 6:30a.m. choir, Parish Priests and deacons of the Catholic Archdiocese of The Bahamas, the sisters of St. Martin's Monastery
Golden Girls:Eva Hilton, Maria Ferguson, Gloria Gomez, Mildred Turner, Alfreda Cooper, Val Turnquest-Rumer, Arlene Newbold, Inez Antonio, Dorothy Darville, Judith Thompson, Katrina Cartwright, Malvena Sands, Val Lockhart, Marietta Coakley, Angela Russell, Joyce Bannister, Dr. Olga Clarke, Curlene Fernander, Lydia McKenzie.
There are many others, too numerous to mention who have enriched Sylvia's life and whose lives she enhanced .
Friends may pay their last respects at Demeritte's Funeral Home, Market Street, from 10-6:00 p.m. on Thursday & on Friday at the church from 10:00 a.m. until service time.
In lieu of flowers, donations may be sent to Our Lady's St. Vincent DePaul Society of The Samaritan Ministry of the Catholic Archdiocese of The Bahamas.