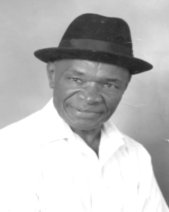 Obadiah Goodman Sr.
unknown - unknown
Funeral Service for the Late Elder Emeritus Obadiah Goodman Sr., 81, of Tarpum Bay, Eleuthera and formerly of Deep Creek, Eleuthera, will be held on Saturday August 25th, 11:00 a.m. at Ebenezer Gospel Chapel, Tarpum Bay, Eleuthera. Pastor Tom Roberts assisted by other Ministers of the Gospel will officiate. Interment will follow in Tarpum Bay Public Cemetery, Tarpum Bay.
He is survived by Four Sons: Obadiah Jr., Reuben, Leroy and Reginald Goodman. Five Adopted Sons: Eddian Knowles and Arnold Thompson, Alton Virgil, Leigh & Bill Burrows. Six Daughters: Judith and Doreen Johnson, Vandelene Hunt, Marion Debbie Ferguson, Althea Turnquest and Angela Robinson. Adopted Daughter: Gretchen Styles. Forty Nine Grand Children: Javan Obadiah, Caswell & Casandra, Vashni, Timna & Kenyatta, Elroy & Owonta, Jarred Obadiah & Linda, Roman, Tempess, Janelle & Kegan, Reuben Jr., Alfred Obadiah Jr., Awan, Johnette, Rashad Obadiah, Navardo Obadiah, Roy-Ann, Maseo, Benjamin, Leroy Jr.. Shamaque, LeKay, Laroi, Ledesronique, Lisa, Jefferson, Dyontalee, Dudley Obadiah Jr., Dr. Theodore & Dr. Brenna Turnquest, Kara & Reno, Terry Obadiah Jr., Adam, Ambaa , Michael Jr., Samuel, Arnelda, Lanicia,Bruno, Bruneisha, Gabrielle, Grier, Garae, Lamont Dean, Mario Dawkins. Twenty-One Great-grandchildren: Ewantae, Jada, Machello, Michael,Yvhari, Tahia, Elijah, Jalen, Aaron, Cassidy, Charles, Joshua, Matthan, Kaynell, Hank Obadiah, Yvonne, Kye, Theodore Jr., Alexander, Elijah, and Emma. One Great-Great-Grandchild: Amyah. Six Sons-In-law: Patrick and Alfred Johnson, James Hunt, Retired Assistant Commissioner of Police John W. Ferguson, Retired Captain Dudley Turnquest and Terry Robinson. Four Daughters-In-law: Sandra, Denise & Caroline Goodman, Denise Thompson & Gail Knowles. Brother: Wilfred Richardson Goodman – Nassau. Sisters: Celeste Stubbs and Merlease Butterfield. Aunt: Viola Gardiner. Sisters-in-law: Myrtle & Miriam Goodman and Priscilla Clarke Numerous Nephews and Nieces Including: Rachael, Cynthia, Jeffery, Alphonso, Keva, Walter, Emily, Gary & Yvette, Clarice & Lermon, Ritchie Jr., Colin, Silas, Anthony, Sandra, Patrice, Tyrone, Clifton, Leslie & Shirley, Wade, Cynthia, Perry & Daphne & Kirk, Children of the late Earnest Thompson (Brother), Children of the late Samuel Goodman (Brother), Children of the late Benjamin Goodman (Brother), Children of the late Henry Goodman (Brother), Charles & Merlene Clarke, Caleb & Sharon Goodman, William & Bobbett Goodman, John Norris Carey, Daneen Clarke, Thelma & Byron Bain, Vernon Styles, Wilmore, Cofield, Beverley, Anthony & Angela, Joseph & Nina Sweeting, Elizabeth & Herman Johnson, Robert Wilson, Benjamin White. Caregiver: Claudette Burrell-Bailey. God-child: Betty-Lou Knowles. Numerous Other Family and Friends Including: Shannell, Sandra, Jeanie, Mae Brown & Family, The entire McCartney & Carey Families, Olga Thompson, Sheila, Joanette, Vandolene, Junior Pratt, Oral Pinder & Family, J. Oswald Ingraham & Mrs. Marie Ingraham, Mr. & Mrs. James Smith, Mr. & Mrs. George Edwards, Mrs. Loraine Morley and other members of the Ebenezer Gospel Chapel. The United Assemblies of Brethern in Eleuthera and through the Bahamas; Mr. & Mrs. Lucine Mingo Sr. & Family, Pastor & Mrs. Tom Roberts. Bishop & Mrs. Cephas Ferguson, Helen Smith, Gwyneth Munnings. The Hon. Philip M. Bethel & Family, Joshua Culmer & Family, Garth Culmer, Reginald & Dereck Johnson, Mrs. Maude Weech. John & Enid Carey, Eurene Nottage, James Nottage, Mr. & Mrs. Bert Carey, Florence Morley, Andrea Roberts, Sheila McCartney, Ethel Cartwright, Sarah Hall, John Tobais Carey, Mr. & Mrs. Theodore Allen, Mr. & Mrs. Dewitt Carey & Family, Lance Knowles, John & Eugene Carey, Pastor Samuel Johnson & Family, John Hunt, Blanche, Querena Mingo and the entire community of Tarpum Bay. Anwar Rolle, Mekos Johnson, Lavardo Morris, Ronald Taylor & Family, The entire Cates Family, Emmerson Horton, Claudia Sands & Family, Murreita Major, The Symonette Family, Cedric Hall, Phyllis Kemp, Aldon Evans & Family and the entire community of Rock Sound. Mr. Hilbert Richards & Family, and the entire community of Green Castle. Freddie, & the entire Delancey Family, The Mackey Family and the entire community of Water Ford. Carl and Daniel Nixon & Family, Elaine Thompson & Family and the entire community of Wemyss Bight. The Sweeting Families. The Anderson Family, the Thompson Family, Dellington & Zilchus Thompson, The Pratt Family and the entire community of Deep Creek. Staff of James Hunt Construction Co., Staff of the College of the Bahamas, Staff of Bahamas Electricity Corp. (Nassau), Staff of Bahamasair Holdings Ltd., Staff of South Miami Hospital Dialysis Unit. The Nursing Staff of Tarpum Bay, Dr. Sydney Smith, Dr. Horatio Simmons & Staff, Nurse Velma Dorsett and Nurse Andrea Nottage.
Friends may pay their last respects at Bethel Brothers Morticians, #34A Nassau Street on Thursday from 1:00 p.m. to 6:00 p.m. and on Friday at the church from 7:00 p.m. to 12:00 midnight and on Saturday from 9:00 a.m. until service time.
Please visit our website: www.bethelbrothersmorticians.com to share your memories and condolences with family and friends online.