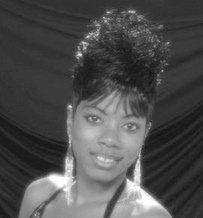 Mia ""Mimi"" Anthea Cleare-Sturrup
unknown - unknown
Memorial Service for Mrs. Mia Anthea "Mimi" Cleare-Sturrup, of Golden Isle Road, Nassau Bahamas, will be held on Thursday 23rd August at 7:30 p.m. at Nassau Fellowship Centre, Minnie Street. Officiating will be Bishop W. Reynold Storr.

Funeral Service for Mia Anthea "Mimi" Cleare-Sturrup age 31 of Golden Isles Road who died on Sunday 12 August, 2012 will be held on Saturday August 25, 2012 at 10:00 a.m. at St. Paul's Baptist Church Bernard Road, Fox Hill. Officiating will be Rev. Dr. J. Carl Rahming and Bishop W. Reynold Storr, assisted by other Ministers of the Gospel. Interment will follow in Old Trail Cemetery, Old Trail Road, Nassau Bahamas.
Left to Cherished her fond memories are her Husband: Shannondoah Sturrup Sr. Children: Shannondoah Jr., Sha'mia ,Heaven, Ciro Parents: Linda E. Braynen-Cleare, Derek D. Cleare 
Sisters: Lindira & Dericka Cleare, & Raychelle Higgs Brother: Dwayne Cleare Grandmother: Cleora Braynen Stepmother: Donnalee Cleare Stepfather: Samuel Higgs Nieces: Crystal Sturrup, Tiarah & Zariah Moss, D'Asmine, Teshera, Dovanique Nephews: Videll Forbes, Anfernee Duncombe, Ricardo Moss Jr., Travis Rolle Jr., Tereno Jamie. Mother & Father In Law: Harrison & Themla Sturrup
Brothers & Sisters In Law: Dwight, Donavan & Deidre Sturrup Aunts: Katherine Woodside, Sheryl Clarke, Eartha Knowles, Anthea Lewis, Vanda Rahaming, Barbara, Brenda, Cleo & Vonita Cleare, Georgette Rahaming, Madge Munroe, Kelly & Joyann Braynen Uncles: Perry Sr., Donnie, Marcus & Chuck Braynen , Basil, Burton & Floyd Cleare, Samuel & Dedrick Rahaming, Michael & Mitchell Munroe, Wayne Knowles, Henry Lewis, Shola Woodside, Paul Ferrete God Parents: Annamae Brice, Jefford Roberts, Patrick Musgrove, Campbell Cleare God Children: Tyrese Sweeting, Shania & Chea Cleare. Grandaunts: Gladys Saunders, Dency Moss, Dorothy Fredric, Angela & Louis Kelly, Grace Cumberbatach, Marilyn, Antoinette, Tera, Evangeline & Monica Rahaming, Verna Demeritte, Hazel Chea , Jane Lord, Clotilda Frazier, Patricia Borrows, Myrna Gaitor, Cynthia Wallace, Sandra Johnson, Florence Lightburn, Helen Newbold, Julia Curry, Sandy, Coralee, June, Dorathea, Althera Bowe. Grand Uncles : Rev J. Carl, Eric, Noel, Leonard Eddie & Melvin Rahaming, Rev Fredrick E . & Franklyn Kelly, Harrison Barry, Nelson Lord, Anthony Frazier, Reginald Demeritte ,Charles Johnson, Phillip Gaitor, Joseph Cumberbatach, David Lightburne, Fred Curry Sr. One Hundred Fifty-four Cousins Including: Dedrick & Jeremy Adderley, ,Valentine, Valdez, Valduron, Valrico & Laquelle Cleare, Enere & Melinda Scriven, Melvert & Shalton Clarke, Aramel, Gavin, Brittany & Gyasi Lewis, Drayton Knowles, Michelle, Rosalie, Michalene, Michael Jr., Mitchell-Michael & Mitchell Jr. Munroe, Omicka Curtis, Desi & Derrilen Sturrup, Thomeya & Thomara McKinney, Edrian, Andrae, Waynette , Ariel, Dedrick Jr. & Edrin Rahaming, Ashton Woodside, DaVin Culmer Jr., Perry Jr. & Kelson Braynen, Joan Cumberbatach , Shirley Bodden , Cheryl & Earnest Haven, Deborah, Alvin & Fredrick Moss Jr., Sgt. Anthony , Patrice, Sonia, Oscar, Cyril & Janine Saunders , Kendra, Alton, Sheldon, & Miriam Kelly, Carolyn & Nick Hepburn, Cora & Ken Ferguson, Cathy & Mario Nelly, Cynthia & Donald Walker, Ceila & Giovanni Imlach, Donald & Samantha Fredric, Sonia & Ali Kelly, Elroy Cooper, Tino & Krizia Williams, Charlene Cooper, Olive Mackey Paul & Patsy Peterson 
Other Relatives And Friends: Mr. Kendley & Sandra Darling & Family, Maria Brown & Family, Gladys Hall-Darling & Walter Young Family, Vonita Lowe & Family, Mr. Okel & Nikeya Cash & Family, Mr. Harold & Veronica McPhee & Family, Shanelle & Ednal Jr. Cash & Family, Sabrina Morley, Anishka Sawyer, Lisa Kemp, Tiffany Mortimer, Abner Prosper & Family, Elizabeth Clarke & Maria Carey, Jackie Adderley, Dellarese Rahaming, Charelene Cooper & Family The Marshall Family Joyce Roberts & Family Stephen Jolly & Family, Edney & Lillimae Gaitor & Family, Rose Newton & Family, Mr. & Mrs. Campbell Cleare , Augusta Hepburn & Family Phillip Moss & Family Mr. Sidney & Patsy Moss & Family, Anthony & Linda Duncombe & Family, Jane & Royanne Albury, Peter & Phyllis Garraway, Baby Louie Isaacs, Terry Bullard & Family, Charles & Maria Sears & Family, Mr. Wilson Kelly & Family, Ghandise & Elizza Fairweather, Minister Ethan & Evangelist Patricia Fairweather, Sandra Johnson-Sturrup & Family, Dr. Zhivargo Rolle, Nurse Janice Brown, Nurse Trifona Carangue, Nurse Bridgette Willamson-Bell, Nurse Audrey Francis , Godfrey & Deidre Turnquest, Kim Fountain, Patrick & Connie Bethel, Ramona & Ranaldo McClain, Michael Knowles, Terricetta Minnis, Margo Isaacs & Family Valerie & Tiffany Albury & Family, Petra Miller & Family, Marvin Nixon & Family, Cherokee Armbrister & Family, Anthony Bain, Deval Kerby, Charvis Newton, Jacquline Richards, Charmine Sturrup & Family, Donavan Miller, Monique Sturrup & Family, Michael & Antoinette Higgs & Family, L.W.Young Class Of 1998, Frazier, Sturrup, Rahaming & Cleare Families, Bishop Wilbert Storr & The Nassau Fellowship Centre Family, Dr. Winston C. Rolle & Family,Rev. Fredrick E. Kelly, & The Epiphany Methodist Church Family, The Johnson Road And Fox Hill Community, Management & Staff Of Super Value, And The Entire North Eleautheracommunity 

Viewing will be held in the Legacy Suite at Vaughn O. Jones Memorial Center, Mt. Royal Ave. & Talbot Street on Friday from 10:00 a.m. to 6:00 p.m., and at the church from 9:00 a.m. until service time.