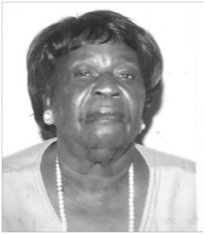 Louise Alice Richards
unknown - unknown
Funeral Service for the Late Louise Alice Richards, 78, of Haven's Subdivision, off Soldier Road and formerly of Green Castle, Eleuthera, will be held on Saturday August 25th, 10:00 a.m. at Holy Cross Anglican Church, Highbury Park. Rev. Fr. Norman Lightbourne and Rev. Fr. Alvardo Adderley will officiate. Interment will follow in Woodlawn Memorial Gardens, Soldier Road.
Cherished memories of her life will always linger in the hearts of her children: Alison Brown, Linda and Gary Knowles, Catherine and William Percentie, Nena, Scottie and Simon Richards; Grandchildren: Melissa and Herbert Saunders, Shonice and DeCosta Deveaux, Melva and Stephen Nottage, Racquel and Jermaine Adderley, Demetria Richards, Edroy Brown, Shadea Richards, WillDaja Percentie and Simon Richards Jr. of Kingston Jamaica; Great Grandchildren: Duronte and Kenisha Beneby, Shanea Adderley, DeKasha Deveauxm Gregory and Melissa Ferguson, Lyndon Wallace, Jermaine Adderley, Jayla Nottage, Makayla Deveaux and Kenrio Black; Sister: Madelyn Martin of Green Castle Eleuthera; Nieces: Leona Whylly, Althea Brown, Veona Minnis, Gloria, Curlene and Betsy Richards, Francine Knowles, Angela Thompson, Vera Sherman, Hazel Thompson, Wendy, Kimmie and Dianne Lightbourne, Patsy Dolce, Rochelle Wilson, Carolyn Richards, Donna Ferguson, Delvera Griffin and Jenniemae Richards; Nephews: Wilton and Delroy Richards, Austin Garnet, Neville and Carol Brown, Harvey Lockhart, Ricky and Billy Martin, Wilson Lightbourne, Michael Fergurson, Hilbert, Bernal and Dudley Richards and Eneas Mackey; Grandnieces: Stephanie, Paulette, Sherise, Kaylee, Carla, Carmen, Shena, Eldiqua, Elsheika, Eldecia, Tiffany, Doreen, Tasha, Maja, Irena, Maxine, Jennie, Garnetta, Talita, Tashanda, Claudette, Shavonne, Jessica, Juile, Barbara, Portia, Peggie, Crystal, Terrelle, Tireshea, Makeva, Shanda, Marsha, Teva, Dellarise, Deanne and Theresa; Grandnephews: Tyrone, Dennis, Pedro, Simon, Edroy, Travis, Kevin, Selvin, Patrick, Curtis and Shanty; Other Relatives and Friends: Merlene Nesbitt and Family, Florence Williams and Family, Bertram Rolle and Family, Fredricka Watson and Family, Evangeline Rolle and Family, Wilfred Thompson and Family, Aladice Richards and Fammily, Rena Whylly and Family, Napoleon Whylly and Family, Margaret Richards and Family, Sandra and Villianne Johnson and Family, Edroy Brown and Family, Alfred Bullard and Family, Stacey Petterson and Family, Chester Rolle and Family, Ivan Thompson and Family, Deepak Bhatnagar and Family, Clarkson Darville and Family, Holy Cross Church Family, The Richards, Mackey, Rolle, Brown, Whylly and Wright Families and the entire community of Green Castle Eleuthera.
Friends may pay their last respects at Bethel Brothers Morticians, #34A Nassau Street on Friday from 10:00 a.m. to 6:00 p.m. and on Saturday at the church from 9:00 a.m. until service time.
Please visit our website: www.bethelbrothersmorticians.com to share your memories and condolences with family and friends online.