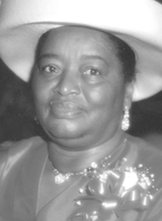 Letitia Stuart-Strachan
unknown - unknown
Funeral Services for the late Letitia Stuart-Strachan, 78, of Golden Gates and formerly of The Lot, Cat Island, who died on the 15th August, 2012, will be held on Saturday, 25th August, 2pm, at Wesley Methodist Church (MCCA), Malcolm Road East. Officiating Rev. Livingstone Malcolm and Rev. Cecil Newbold. Interment in Western Cemetery, Nassau Street.
She is survived by her Children: Peggy Pratt, Patrice Collie, Gary and Hastings (Junior) Strachan; Grandchildren: Tony and Tonya Pratt, Sheldon and Latrice Collie, Gari and Kaleya Strachan; Daughter-in-law: Kiesha; Son-in-law: Anthony Pratt & Sheldon Collie; Grand daughter-in-law: Amanda Pratt; Sisters: Margaret, Louise, Inez Irenese Stuart and Annamae Ferguson; Brothers: Holbrooke, Reuben, Arlington (Joe), Octavious Stuart; Sisters-in-law: Willamae, Lillis and Jennifer Stuart, Marie and Ann Strachan; Brothers-in-law: Donald Deveaux, Gershan, Hartley, Rodney, Lionel and Austin Strachan; Aunts: Evangelist Idell Munnings Newbold and Leoni Munnings; Uncles, Nieces: Jan, Suzette, Sherell, Monique Johnson, Marva, Nicki, Jenniemae and Dr. Scarlette Stuart, Lisa Williams, Nicola, Kimberly, Lynette, Belinda, Bettany, Cicely, Terrel, Kimberly, Shamille Stuart, Octavia Duncombe, Michelle Wilson, Kimberlena, Chiquita, Shumel Dames, Arodeanna, Yarassanchess Swain, Hiawatha, Cuelissa Roll, Edrica and Ecerina; Nephews: Cyril, Leo, Charlie and Ian Stuart, Donald and Ornald Deveaux, Kenley, Perry, Keno Ferguson, Brad Stuart, Pedro Adams, Abedo, Arlington Jr. and Fabian Stuart, Ricardo Williams, Elijah, Jamieco, Sandiakan and Samalie Stuart, Christoff Coffee, David Stuart, Paul Jr. Quincy, Dominique, Christopher, Edwin Burrows; Cousins: Rev. Cecil, William, Eula Newbold & Family, Princess Maycock & Family, Dainette Bonimy & Family, Nathalie & Edgar Bonimy & Family, Dr. Ingrid Bonimy, Kenneth, Clinton, Mr. & Mrs. Martin, Bernard and Florinda Smith & Family, Rev. Zephaniah, Charles and Harrison Newbold & Family, Mr. & Mrs Clonius Stubbs, Susana and Portia Newbold, Mrs. Altermese Carey & Family, Mr. & Mrs. Fonswit Stubbs, Kingston and Bernard Newbold, Rodney and Robert Stuart, Maxwell Stubbs & Family, Mrs. Alice Stuart Stubbs & Family Cleveland Stuart & Family, Mary Stubbs & Family, Annanora Burrows & Family, Selma Stuart & Family, Mr. & Mrs. Revis Rolle & Family., David Seymour & Family, Orick Pratt & Family, Warren and Clifford Seymour & Family. Numerous relatives and special friends, including: Mrs. Sada Miller & Family, Mrs Nora Newbold & Family, Ms. Mary Duhaney & Family, Milton & Henry Smith, Merelee Stubbs & Family, Ellen Newbold & Family, Olivia Bowles & Family, Joanna Clarke & Family, William McDonald & Family Edgar Stubbs & Family, Roosevelt Newbold & Family, Ms. Patience Stubbs & Family, Mrs. Evelyn Burrows-Bowles and the entire Stuart, Newbold, Munnings, Poitier, Miller and Stubbs Families of Orange Creek Cat Island, The Strachan, Seymour, Moncur, King, Hepburn, Ramsey, Pratt, Turner, Cambridge, Edwards, Johnson, Taylor, Knowles, Cumberbatch Family, the Neighborhood of Gaiety Walk Golden Gates #II.
Relatives and Friends may pay their last respects at Newbold Brothers Chapel, Palmetto Avenue and Acklins Street off Market and East Street on Friday, August 24th from 10:00 a.m. - 6:00 p.m. and on Saturday, at the church from 1:00 p.m. until service time.