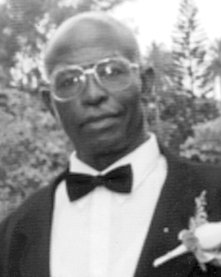 Deacon Edward Livingston Sargent
unknown - unknown
Funeral Service for Deacon Edward Livingston Sargent, 74, of the Barc North Andros will be held on Saturday 25th August 2012 at 11 a.m. at Golden Gates Native Baptist Church, Lobster Ave. Golden Gates. Officiating will be Rev. Dr. Alonzo Hinsey, assisted by other Ministers. Interment will follow in the Lakeview Cemetery JFK Drive and Gladstone Rd.
A Time to Mourn: Edward leaves behind to celebrate his life legacy, his lovely wife: Deaconess Hazel Roseann Sargent; Daughters: Deneice, Gaynell, Jennymae, Kizzy, Melony, Nicole, Penny, Shyanna, Sandra, Shanae, Sheeky, Shelly, Tammy, Yvonne; Sons: Avory, Carvell, Keith, Livingston, Marvin, Nivon, Phillip, Stephen; Grandchildren: Akash, Alarian Jr., Alyssa, Aria, Ashton, Avory Jade, Avory Jr., Avron, Brandon, Brazil, Brian Jr., Brianeka, Carvel Jr., Cavan, Chacara, Chahan, Christian, Deashley, Deandra, Dena, Dennis Jr., Desmond Jr., Destiny, Devano, Diamond, Gina, Kendrick, Kim, Jayden, LaShama, Lashell, LaVonya, Lisa, Marvanique, Marvin Jr., Narada, Nevaugh, Peachie, Philicia, Philine, Phillip Jr., Phillipa, Rollando, Ronald, RaShae, Shanna, Shiobhand, Tamaren, Tino, Vernon, Zache, ZaReah, Zaryc; Great-grands: Bernard Jr., Cortez, Erick, Emma, Franklyn, Frankquanyia, Jaheim, Jamal, Jeniquia, Kneal, Shakneal, Terrance; Brother-in-Law: Wellington Woodside; Sisters-in-Law: Alma and Marilee Woodside; Daughters-in-Law: Bridgette, Diane, Janet, Joan Gomez, Sherrica, Teresita; Sons-in-Law: Alarian Woodside Sr., Brian Dillet, Bryan Sarjudas, Cardinal Seymour, Chris Saunders, Christopher Carey, Dennis Adderley, Desmond Gillbert Sr.; Nieces and Newphews: Candy, Cecelia, Dwayne, George, Jay Jay, Jeremy, Jeffry, Jermaine, Lisa, Marcia, Marco, Monique, Raquel; other relatives and friends including: Rev. Harold and Roselda Woodside, Rev. Merlene Smith and Family, the entire First Baptist Church in San Andros, the entire BARC Community, the entire North and Central Andros families, Honorable Dr. Perry Gomez (Member of Parliament for North Andros and the Berry Islands) and family, Vincent Peet and family, Autec Navy Base family, Barbara Wallace and family, Sheila Rolle and family, Wilfred Mackey and family, Alice Lafleur and family, Dosvelle Mackey and family, Henry Marshall and family, Harold Butler and family, Oral Hinsey and family, Nick Hinsey and family, Arlington Butler and family, Rev. Alonzo and Jessie Hinsey and family, the entire Golden Gates Native Baptist Church, the entire Chippingham community, David Woodside and family, Shirley Woodside and family, Basil Woodside and family, the Maycock Family, Ella Clarke and family, Cynthia Brown and family, family of the late Gerald Dean, Debbie Adderley and family, Nekeitha Wallace and family, Charmaine Melbourne and family, Shantell Bullard and family, the entire Progressive Liberal Party family, Dr. Marina Sands and family, the entire Judea Baptist Church family, Peter Carey and family, Courtney Johnson and family, Debbie and John Chea family, St. Andrews Lodge #11 Nicholl's Town; Special thanks and appreciation to Dr. Sherman and Nurse Gibson and the entire staff at Nicholls Town and Mastic Point Clinics and others too numerous to mention.
Friends may pay their last respects at the church on Saturday from 10 a.m. until service time. Funeral arrangements are being handled by Newbold's Funeral Chapel.