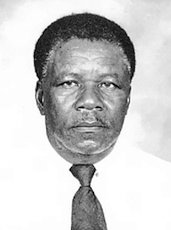 Charles ""Uncle Jeff"" Jeffrey Cunningham Jr.
unknown - unknown
Amethyst Funeral Notice
For
Taxi Driver 143 Charles Jeffrey "Uncle Jeff" Cunningham Jr., 93, of #53-B Pinedale Road and formerly of Matthew Town Inagua will be held on Saturday, August 25, 2012 at 10am at The New Annex Baptist Cathedral, Wulff and Pinedale Roads. Apostle Mitchell E. Jones, assisted by other Ministers will officiate and burial will be in Lakeview Memorial Gardens & Mausoleums, John F. Kennedy Drive & Gladstone Road.
The Radiance of this "Amethyst of A Gem" will always glow in the hearts of his:
Son: Arthur Hall;
Grandchildren: Carla (Alexious) Rolle, Dwight (Raquel) and Raymond (Carla) Hall;
Great Grandchildren: Adaja and Adraya Rolle and Larae Hall;
Daughter-in-law: Pandora Hall;
Nephews: Cecil, George, Neville, Sidney, Wendall, Anthony, Perry, Michael and Joel Cunningham, Luther Cox, Arlington Collie, Roston Lightbourn, Winston and Christopher Johnson;
Nieces: Mariette, Madeline, Naomi, Jennifer Clarke, Pamela Deveaux, Shernell Conliffe, Vernice and Verenique Cunningham;
Sister-in-law: Shirley Cunningham;
Other loving family and friends including: Beverly Jones, Pearl Curling, George McKinney, Robert McPhee, Gennard Deveaux, Charles Nairn, Robert Maynard, Ms. Mullings, Ms. Johnson, the entire Pinedale community, Denez Osealy, Paul Cooper, Ricardo Edwards, Carl Fernander, Dora C., Wendell G. II, Dwaling I and Prisca Dean, Doreth C. Dean-Campbell, and their families, members of the British Legion, members of the Taxi Cab Union, Apostle Mitchell and lady Jones and the entire Annex Baptist Church family.
Visitation will be in the "Emerald Suite" Emerald Ridge Mortuary & Monument Company Ltd. #20 Claridge Road on Friday, August 24, 2012 from 1pm to 6pm and at The New Annex Baptist Cathedral, Wulff and Pinedale Roads on Saturday, August 25, 2012 from 9am.
Visit Our Website: www.emeraldridgemortuary.com view video tributes, sign guest book and send condolence, sympathy, share memories and make funeral arrangements.